The State of Maine owns and leases various types of property including (but not limited to) buildings and their furniture, electronic equipment, machinery and other equipment, fine arts, valuable papers or books and outdoor fixtures. There can be a significant financial investment in the purchase and ownership of property and insurance is available through our office to protect this investment from sudden and accidental loss. In fact, Risk Management Division currently insures over $2.15 billion of property for State government, the Community College System and others.
Property insurance is not automatic, nor is it mandatory. Agencies can choose to insure their property or not. Some agencies have such large values at risk that they feel obligated to insure their property to protect the public's interest. Other agencies have less property, but may have corresponding smaller budgets that can't afford to absorb even a small loss. Some agencies have very specialized equipment that would need quick replacement in the event of loss in order for the agency to carry on its mission. Leases of offices and equipment may require property insurance to be carried. Agencies desiring property insurance for any reason must contact Risk Management Division to arrange for it, it is not automatically provided.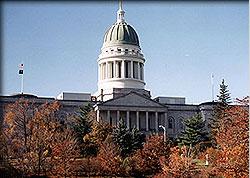 Renewing each July 1st, the State's property insurance program is a combination of commercial property insurance and self insurance. In a nutshell, here is how that works: Through a competitive bidding process (which takes place every three to five years), Risk Management Division purchases a commercial property policy with a very high limit of coverage. In order to generate significant premium savings, the commercial policy has a $2,000,000 per occurrence deductible. Using a self insurance policy, we then reduce this down to a $500 per occurrence deductible, which becomes the responsibility of the agency suffering the loss. Quarterly, we are required to report values, locations and losses to the insurance company. We rely upon agencies to keep this information current.
The premium charged to agencies for property insurance is a rate per $1000 of insured property value. (The base rate for this fiscal year is 52.5 cents.) This rate is actuarially determined using actual past and predicted future losses and the cost of the commercial property policy. The rate derived is then adjusted for each individual agency. Agencies with a poor history of preventing property losses may pay up to 7% more and agencies with good loss history may be credited up to 5%. It pays to control losses!
Like any other insurance policy, the property insurance policies contain certain sub limits, limitations of coverage, exclusions and conditions. It doesn't insure every type of property, every loss at every location, and for every cause of loss. However, it is very comprehensive insurance, among the best that is available. It provides replacement of damaged property, without depreciation, in most cases. Agencies are generally required to actually replace the damaged property in order to collect insurance proceeds. Payment for a loss is capped by the limit chosen and paid for by the agency. Thus it is very important for an agency to review and keep its values current. There is no worse experience than an uninsured or underinsured property loss.
IN GENERAL
The property policy is over eighty pages long. We cannot possibly capture all of the nuances of it here. Don't be caught short. Call us for individualized insurance advice if your agency:
Has never purchased property insurance from our office.
Purchases either a building or expensive new equipment.
Contracts for a new building to be built.
Sells or vacates a building.
Moves to a new location or signs a new lease.
Loans State-owned equipment to other non-state entities or individuals.
Needs proof of property insurance.
Suffers a property loss.
Wants a list of your insured locations and values.
Wants a detailed review of the property policy what is and isn't covered.
A summary of this program is available as a publication. Please visit the Risk Management Bulletins, Publications & Forms page and look under the publications section.