Manual & Reference Material
Description
Date
Format
3.11 Chart of Accounts & General Accounting Manual
10/23/2020
PDF
3.11 ABSJ Document Instructions
10/17/2019
PDF
3.11 COAJ Document Instructions   (Description)
10/17/2019
PDF
3.11 JV Document Instructions
10/17/2019
PDF
3.11 JVC Document Instructions
10/23/2019
PDF
What Type of Journal Should I Use?
10/28/2019
PDF
Journal Voucher Guidelines
10/28/2019
PDF
Event Types
10/28/2019
PDF
Prior Year Adjustments   (Flowchart)
10/28/2019
PDF
Revenue Transfers
10/28/2019
PDF
Balance Sheet 0215 - Disbursements
10/28/2019
PDF
Advantage Journal Template - See Forms Page: Accounting #1
**Documents are supplied in PDF format and require the free Acrobat Reader for viewing or printing. If you need an alternate format, please contact us via email or phone (207-626-8420).
Please visit the Accounting FAQ section for additional information regarding journals.
Notes:
COAJ Documents:

Please make sure that COAJ documents are still prepared using the Journal Document Template. These documents, along with proper backup, are still sent for scanning into Fortis.

Please make sure to check the document comments regarding rejected documents before contacting OSC. If you still have questions about the reject after reading the comments, you can inquire further.
Please make sure to check document catalog for the status of journal processing. It is up to each agency to monitor their own journals. Especially during month, quarter and year end processing.
Please make sure to include Accounting Period on paper journals, especially during month, quarter and year end processing.
Header Information
Please make sure to complete the header tab on your documents. This is very important during month, quarter and year end processing.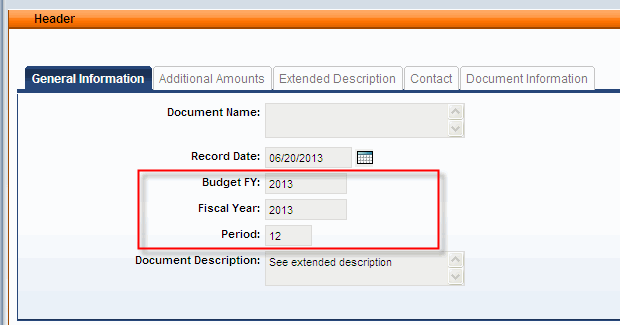 Section Objectives:
Understand the new chart of account elements in Advantage
Identify and configure key chart of account tables
Understand interrelationships and dependencies among the chart of account elements
Create an accounting template
Understand and use event types and posting codes
Understand the relationship between event types and required chart of account elements
Understand budget structures and their corresponding components, controls and their related chart of account elements
Create general accounting documents
Process Journal Voucher (JV)
Process Internal Exchange Transaction (IET)
Process Accounting Based Spending Adjustments (ABSJ)
Advantage's Chart of Accounts functionality provides an account structure to classify financial information according to the dimensions needed to support the various uses of the State of Maine's (SoM) financial information. In this way, you can measure where monies are collected and spent. You can categorize each transaction using independent characteristics so that you can record and report on financial activity. Another aspect of the chart of accounts is the consolidation of information into rollups that you can use for reporting and budgeting. The chart of accounts can accommodate many discrete elements, sub elements and multiple associations for establishing hierarchies and rollups.
Advantage addresses reporting needs - fund accounting, adherence to budget and other management tracking activities. Using its flexible coding structure, you can produce sets of financial reports in which the same dollar amounts can be classified in different ways: program managers receive reports that cut across organizational lines pertaining to specific programs; department managers receive reports for their organizations and programs; legislators receive appropriations reports. Advantage produces these reports from the same common database.