Manual & Reference Material

| Description | Date | Format |
| --- | --- | --- |
| Cost Accounting Manual | 06/08/2011 | PDF |
| 3.11 CAS Document (Entering a Grant) Instructions | 10/23/2019 | PDF |
| Entering a Project Instructions | 06/08/2011 | PDF |
| 3.11 CAM Document (Modifying a CAS) Instructions | 10/23/2019 | PDF |
| 3.11 JVC Document Instructions | 10/23/2019 | PDF |
**Documents are supplied in PDF format and require the free Acrobat Reader for viewing or printing. If you need an alternate format, please contact us via email or phone (207-626-8420).
---
BGPDR / BGPHR
This message is to inform users of a change in workflow related to budget documents (BGPDR and BGPHR).  Any budget document where the default action code is set to 'Reject' will workflow to the Controller's Office to be rejected.  This is to prevent decentralized budget structures from having constraints that cannot be overridden by the Controller's Office when necessary (i.e. budget errors on interfaced payroll and stacap).  The only exceptions to this new workflow rule are for "Pre-Encumbered >=0" and/or "Encumbered >= 0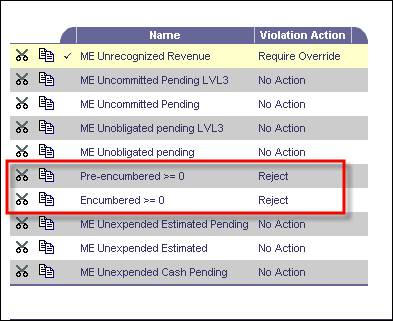 This change is necessary to allow the Controller's Office to process transactions that include detail accounting, but for which budget errors are thrown; without this change, detail accounting would have to be removed manually and the transaction processed without detail accounting.
---
Section Objectives:
Define the chart of accounts cost accounting attributes
Describe the purpose of cost accounting reimbursable budget structures
Setup a Major Program structure and establish reimbursable budgets
Process accounting transactions that affect reimbursable budget structures
Describe the Cost Accounting transactions approval process
Review and correct validation and submission error messages
Describe the specific conventions adopted by Maine in each business area
Cost Accounting is the tracking of accounting events that are associated with a special purpose. The purpose could be defined by funding received from an outside entity like a Federal award or third-party award. Also, the purpose could be grouping costs together for internally defined reasons (for a special spending initiative or specific costs incurred to provide a service). In many cases, Cost Accounting activity is tracked for the purposes of billing an outside entity to reclaim some or all of the costs. In the State of Maine, Cost Accounting functionality is used primarily for grants and Federally-funded projects. It is similar to the Grant Accounting and Project Accounting modules in MFASIS in that it allows for the establishment of funding agreements, identification of costs and revenues by grant and project, and automated reimbursement of grant and project costs.
This section will introduce you to the use of the Major Program structure in the Cost Accounting business area of Advantage.
For Cost Allocation and STACAP information, please visit our Stacap page located in the Administration Section.