Fishing Report
Click the links below for the most up-to-date fishing news and suggestions from Maine's fisheries biologists.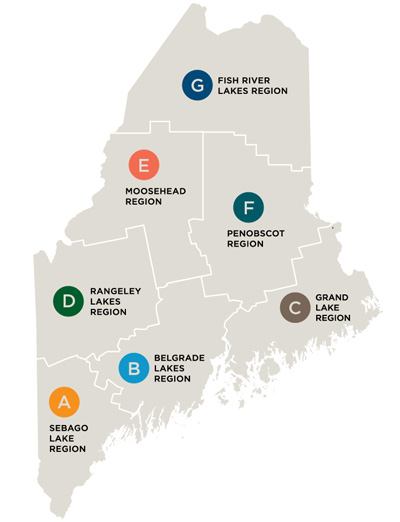 Sebago Lake Region
From Assistant Regional Fisheries Biologist Nick Kalejs
Places to go:May is a month of transition, with plenty of early season cold water opportunities still available and an increasing amount of warm water action by month's end. So far this open water season, Thompson Lake and Kezar Lake have provided some of the most consistent fishing in the region, with landlocked salmon and lake trout both available. Another option to try could be Pleasant Lake in Casco, which features sizeable salmon and a good bass population as the water continues to warm. Little Ossipee Lake is another good choice for a variety of cold water fisheries (brook trout, rainbow trout, landlocked salmon) and bass opportunities.
For those anglers wishing to fish from shore, the Jordan River and the area around the Songo Locks provide popular early-season fisheries for brook trout and salmon. Our hatchery trucks are also very busy these days, so check the stocking report for the latest on streams with fresh trout.
Fishing tip: Don't be afraid to try a variety of techniques as the weather changes. Slow, patient retrieval of flashy lures can coax a chilly fish to bite, but nothing beats "matching the hatch" of insects during warmer weather. Pay attention to the forecast and the day around you to maximize your chance of success.
Reminders: Despite more warm, sunny days, the water is still generally very cold in early May! Wear a life jacket and choose layers that allow for adjustments to both the heat of the sun and the cold wind off the water.
Belgrade Lakes Region
From Fisheries Resource Supervisor Jason Seiders
Messalonskee Stream (Oakland, Waterville) – Messalonskee Stream offers a nice brook trout fishing opportunity for central Maine anglers. The stream gets heavily stocked each spring, and stocking takes place at several locations. The most popular areas, and some of the most productive, are at the base of the many dams along the stream's route. Another productive spot is the area just above the dam on Messalonskee Lake. There's plenty of good access and casting room, and anglers can find anything from brook trout to northern pike!
Webber Pond (Vassalboro) – Webber Pond is one of central Maine's best "bass factories." It has great bass habitat and plentiful food sources. Webber offers fast catch rates and occasional trophy largemouth. If you're looking for some fish for dinner, Webber is the place for you. Black crappie will be very active in the next few weeks, and Webber Pond anglers can catch hundreds in a day! Black crappie are an invasive species and Webber is a great example of how invasives can become a dominant species in our lakes and ponds. We're keeping a close eye on Webber because we anticipate negative impacts to other species, including bass, due to heavy competition from high numbers of crappie.
Echo Lake (Fayette) – Echo Lake is a central Maine gem. Echo continues to support a robust population of lake trout, with some fish reaching 15 pounds or larger. The smelt population appears to be in good shape, so anglers can anticipate quality salmon as well. Echo is a great spot for spring salmon fishing because ice fishing pressure has been very low in recent years, leading to more opportunities for open water enthusiasts. Echo Lake grows some enormous smallmouth bass as well, so if the trout and salmon are slow anglers can give the bass a shot.
Fishing tip: May is one of my favorite months to fish. Yes, you have to battle black flies, but the fishing is always first-rate. I spend a lot of my angling time looking for warmwater species and panfish, and May brings about the spawning season for most of those critters. Bass will be entering the nesting season which means aggressive male bass will be guarding their nests. Bass nests are easily visible against the background of surrounding habitat; they will be in 3-8 feet of water and look like a cleared circle on the bottom. Once caught and released, male bass will quickly return to their nest and resume guard duty. Panfish like white perch will spawn along rocky shoreline, or more commonly in larger inlets to lake and ponds. Evenings are always most productive, and they will readily hit small baits and lures. For crappie, look for weedy coves in the evening. Small, brightly colored jigs work very well for most panfish, crappie included.
Reminders: If you're harvesting fish, please utilize them responsibly. Don't leave fish carcasses around private property or even at access points. Always take them home with you and enjoy your catch for dinner or share with a friend. Once again, if you have any questions please contact your local fisheries biologists – we love to talk about fishing and we want to help you have a better time in the outdoors. Good luck!
Grand Lake Region
From Fisheries Resource Supervisor Gregory Burr
Places to go: Landlocked salmon trolling and small pond and stream brook trout fishing is in full swing! Here are waters that we recommend trying Downeast:
For trolling for landlocked salmon anglers should have good results fishing West Grand Lake in the town of Grand Lake Stream as well as at Tunk Lake in T 10 SD, Jordan Pond in Seal Harbor and Love Lake in Crawford.
For small pond brook trout fishing from the shore I recommend West Pike Brook Pond and the Spectacles Pond in Deblois, Fox Pond in T 10 SD and Simmons Pond in Hancock.
For wild brook trout streams I recommend Old Stream in T 31 MD and Mopang Stream in T 24 MD. Also, I highly recommend fly fishing in Grand Lake Stream for salmon and brook trout in the month of May. The current stream flows are perfect! And fresh fish are coming into the stream daily.
Fishing tip: Everything is earlier this year so the time is now to get on the streams for trout!
Reminder: Remember the black flies will be thick so wear or apply protection.
Rangeley Lakes Region
From Fisheries Resource Supervisor Liz Thorndike
Ice was out in the Rangeley Lakes chain weeks ahead of normal and "ice out anglers" were excited. Pictures have been hitting social media of successful anglers sporting smiles and often times snow on the deck! It does appear spring is finally here for most of western Maine, but Rangeley Lake is still fishing well so if you haven't had the chance there is still time!
If you're looking for a small pond you can either fish from shore or easily launch a canoe, both Hills Pond in Perkins Twp and Toothaker Pond in Phillips are great places to try. The ponds are both stocked annually with brook trout in the spring and are prime for a quick fishing trip. The ponds run alongside roads and allow for easy access and open areas to provide anyone enough room for their back cast.
For anyone wanting to take a kid fishing or looking for a new kids-only water, consider Hights Pond in Skowhegan. The small pond stocked with brook trout allows kids a great opportunity to fish from shore and make memories. Click here for a list of all of Maine's Special Opportunity Waters (open to fishing only for persons under 16 years of age and complimentary license holders).
Spring is the time of year many anglers prefer to fish moving water. An often-overlooked river nestled in the western mountains is the Carrabassett River. The River originates in the mountains above Sugarloaf and winds its way along Route 27, through Kingfield, and eventually into the Kennebec River in North Anson. A few locations to start are the river crossing with the Carriage Road in Carrabassett River, the crossing with the IRA Bridge in Kingfield, or the Wire Bridge in New Portland.
Fishing tip: When fishing a new stream or a river that has a bridge, don't overlook the abutments. Trout love to use abutments for cover and keep out of the current and you tend to find a little more depth on the downstream side.
Reminders: May is a unique month in Maine when recreating outdoors. The bugs are coming out and there is often still muddy sections to roads and parking lots so remember to be mindful and walk a little further if necessary. Typically we all start to see a few beautiful sunny days but don't be fooled because water temperatures are still cold - wear a life jacket and for those who don't like the "bulk" of traditional life jackets, consider investing in an inflatable life jacket.
Moosehead Region
From Fisheries Resource Biologist Jeff Bagley
Places to go: Well, what a difference a year can make. Last year it seemed that spring would never get here but in 2021 it seems to have shown up early. In some areas of the Moosehead Lake region, 2-3 weeks early! Ice-out on Moosehead Lake was "officially" called on April 16th by Roger Currier of Currier's Flying Service, who has been doing so for the past 36 years. This was almost a month early from the average ice-out date of May 12th. It's safe to say that there weren't many waters in the southern part of the Moosehead Region that provided safe ice fishing opportunities in April this year.
With the early ice-out, folks have taken to the open water in search of big brook trout and salmon. The biggest trout seem to be caught about a week or two after ice-out and tend to be right in close to shore! During this time, salmon are in pursuit of smelts and can be found at or near the mouths of tributaries where smelts are congregating to spawn. On the bigger lakes and ponds that have smelts, anglers should try trolling with a grey ghost or other smelt pattern in close to shore. Various spoons and spinners can also be very effective for trout and salmon, early in the open water season. As water temperatures warm, typically 50 degrees, the fish start to move from along shore and into deeper water.
The hatchery trucks are out a bit earlier this spring as well and are in full swing stocking our put-and-take brook trout waters throughout the Region. Folks looking to get some early fishing in on one of these waters should check the stocking report which is updated almost daily.
Anglers in the Dover-Foxcroft area can find some spring trout fishing in places like: Garland Pond, Snow's Pond, the Piscataquis River, and Mill Brook and Bear Brook in Bowerbank.
In the Sangerville/Guilford area, anglers can find stocked fish at Bennett Pond, Big Bennett Pond, Piper Pond, and Whetstone Pond.
Up in the Greenville area, folks should try Prong Pond, Mt. View/Fitzgerald Pond, Sawyer Pond and the West Outlet of the Kennebec River. These are just a few of the waters that receive spring yearling trout, so check the stocking report to see other waters that may interest you.
Fishing tip: One of the most rewarding things that I enjoy when I'm out in the field is seeing the youngsters trying their hand at fishing. These young folks are the future of our sport and heritage. To get them interested and keep them "hooked," I would suggest taking them to waters that will allow them to catch a fish. I assure you that it doesn't necessarily have to be a five-pound brookie or a lunker togue. To a young angler a yellow perch, or sunfish can be quite a thrill! We have a few put-and-take stocked waters in the Moosehead Region that provide great opportunities for families and youngsters to enjoy. These include Gravel Pit Pond in Moosehead Junction, Drummond Pond in Abbot, and Dunham Brook in Dover-Foxcroft. Various organizations also hold kids fishing events on these waters throughout the spring, so keep your eyes and ears open for when these are taking place, and take advantage of a fun day of fishing!
Reminder: As biologists, we are frequently asked how anglers can help us with our work. We have just three full time staff to manage the vast fisheries resources across the Moosehead Lake Region and we can't get to every lake/pond/river/stream. We have relied on anglers to keep voluntary record books for much of the information from our smaller waters. The information has proven to be very valuable in detecting changes in fisheries on waters that we might visit only a handful of times during a career. If you would like to keep a record book for us, please shoot us an email at stephen.seeback@maine.gov. We will send you a book with instructions, and a return envelope with postage at the end of the season.
Penobscot Region
From Fisheries Resource Technician Brian Campbell
Places to go: May is the time for brook trout and fiddleheads.
As the dormant buds on the trees start to open and the spring flowers start blooming, not only are the black flies out and biting, but so are the brook trout. The Penobscot region offers many great opportunities to try out one's luck in angling one of these speckled beauties.
Most brooks, streams and rivers in our region offer the opportunity to catch a brook trout. Ponds such as B Pond (TB R11 WELS) offer some good fishing for native wild trout. Abol Pond (T02 R09 WELS), Crystal Pond (T40 MD), Flatiron Pond (T03 R09 NWP), Hale Pond (T02 R10 WELS) and Ireland Pond (T07 R08 WELS) offer some great angling for stocked trout. Lakes such as Cold Stream Pond (Enfield), East Grand Lake (Danforth), Schoodic Lake (Lake View PLT) and West Lake (T03 ND) offer a great chance of catching a trout near shore. You may also catch other cold-water species such as landlocked salmon or lake trout.
If you are looking to take a youngster out fishing, we have several waters that are open only for persons under 16 years of age or persons holding an eligible complimentary fishing license. Pickerel Pond (T32 MD) and Harris Pond (Milo Farm Pond) (Milo), Burlington Fire Pond (Burlington), Edwards Family Kids Fishing Pond (Lincoln), Rocky Brook (Lincoln), Upper Mattagodus Stream south of Rt. 2 (Carroll Plt.) and Cold Stream from the bridge on state route 188 in Enfield downstream to the red markers by the old hatchery fishway (Enfield). Get the kids outside to enjoy the great outdoors.
Reminder: Make sure you have plenty of black fly repellent and check for ticks. We have received calls from several people mentioning that the ticks have been bad in certain areas.
A good practice is to always consult the fishing regulations before angling a new water. This can be done very easily by visiting our website at https://www.maine.gov/ifw/fishing-boating/fishing/laws-rules/index.html
Fish River Lakes Region
From Fisheries Resource Biologist Jeremiah Wood
Fishing success is often dependent on timing. Whether it be time of day, feeding patterns, spawning runs or the warming and cooling of water, that memorable day on the water where you 'hit it just right' can be all about timing. After the mildest winter in recent memory and lack of a decent snow pack in the woods by spring, the timing of just about everything is out of whack this season. This month, you may have to disregard those old reliable fishing dates and make some adjustments to find fishing success.
Ice-out dates in northern Maine were 2-3 weeks ahead of normal this spring, and smelt runs took place a couple weeks ahead of schedule. This should result in earlier warming of surface waters and, depending on the weather to come, a quicker transition to deeper water by trout, salmon and togue. That fast ice-out fishing in the larger lakes surrounding smelt runs has already come and gone, and fish are likely to be transitioning to late spring habits.
Last summer's drought had a significant impact on our brook trout streams, but the lakes fared better. That long, hot dry period had been preceded by an abnormally late spring and abundant snow well into May, which charged groundwater springs in many smaller lakes and ponds, and slowed the warming and stratification of the larger lakes. That allowed the lakes and ponds to better tolerate the drought. We're not so lucky this year, coming into summer on the opposite end of the spectrum. As with everything else, a lot depends on the weather to come, and nobody seems to be able to predict that with any accuracy.
Hanson Brook Lake in Presque Isle is a great place to fish in May, with easy access to shoreline fishing for abundant brook trout. Big Eagle and Churchill lakes in the Allagash Wilderness Waterway are a good bet for trout and togue this time of year as well. Be sure to check Waterway regulations on watercraft type and size before you go. Area brooks and streams are currently near summer levels, and a hot, dry summer could really impact the fishing this year. Some of those waters that don't fish well until June would be great places to try fishing in mid-May.