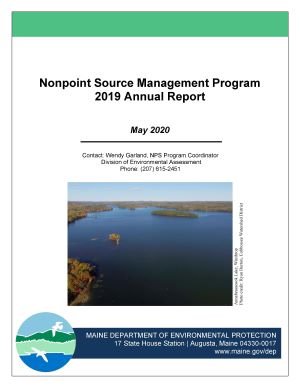 Nonpoint Source Management Program
2019 Annual Report
May 2020
Contact: Wendy Garland, 207-615-2451
DEP provides services to control nonpoint source water (NPS) pollution to help protect or improve Maine's lakes, streams, rivers, and coastal waters. This report summarizes accomplishments of NPS Program activities in 2019. This work is funded, in part, under Sections 319 and 604(b) of the Federal Clean Water Act (CWA) in partnership with the U.S. Environmental Protection Agency.
Highlights
Fifteen NPS watershed projects funded in previous years were completed reducing pollutant loads to waters by 690 tons/year of sediment, 1423 pounds/year of phosphorus, and 901 pounds/year of nitrogen. The report includes an outcome summary for each project.
DEP issued 13 new grants ($1,105,676) using CWA Section 319 funds to help communities implement actions called for in their watershed management plans to restore impaired waters or protect waters threatened by NPS pollution.
DEP also issued three grants using CWA Section 604(b) funds to develop watershed-based plans.
DEP completed an update of Maine's NPS Management Program Plan in collaboration with MaineDOT, Maine Department of Agriculture and Forestry, Maine Department of Marine Resources, Maine Department of Health and Human Services, and other partner organizations. The 2020-2024 plan establishes program goals, strategies and actions to make progress controlling and preventing NPS pollution.
Contents
Introduction
2019 Highlights- NPS Management Program
Maine NPS Management Program
NPS Programs and Services
Maine NPS Program Activities in 2019
NPS Grants Program
Summaries of NPS Water Pollution Control Projects Completed in 2019
Appendix A- NPS Grant Projects Closed in 2019
Appendix B- Active NPS Grant Projects
Appendix C- Maine NPS Program Five-Year Objectives, Milestones, and 2019 Accomplishments

Past Reports