Underground Oil Storage Tanks (UST)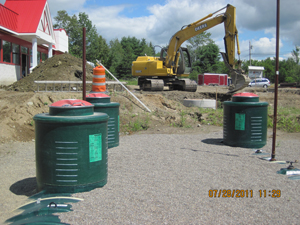 There are over 5,000 registered UST's located at approximately 3,000 underground oil storage facilities in the State of Maine. The Maine Department of Environmental Protection's underground oil storage tank program is responsible for protecting public health and the environment, in particular groundwater, by preventing oil discharges to the greatest extent possible. The Program Staff provide technical expertise, training, and outreach to UST facility owners and operators.
Underground piping associated with aboveground oil storage tanks (ASTs) must be installed and maintained under the same Rules as piping associated with USTs. ASTs storing motor fuel (gasoline, diesel, biodiesel, aviation gasoline, jet fuel, gasohol or other fuels used in the operation of a vehicle or motor engine) and that are connected to underground piping must be registered with the Department and inspected annually by a Maine Certified Underground Tank Installer/Inspector under the same Rules as USTs.