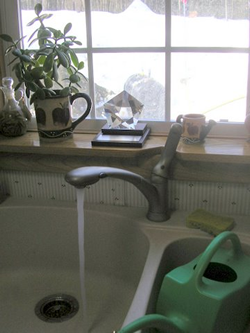 Water Supply Protection
Introduction
Pollution of Maine's drinking water by oil or hazardous substances is all too common. The Bureau is all too familiar with this problem since it is responsible for cleaning up private and public drinking water supplies polluted by oil or hazardous substances, often at public expense. The Bureau's goal is to minimize as much as possible public exposure to oil and hazardous substances and thereby address the associated public health risk. The Maine Legislature has enacted legislation to better protect private and public drinking water supply wells from such contamination.

Overview of An Act to Prevent Contamination of Drinking Water Supplies - This law governs the siting of new underground and aboveground oil storage facilities and some hazardous waste facilities. It also governs the installation of some home heating oil tanks.
Contacts
For more information about Drinking Water Protection, please contact David McCaskill at 207-592-8054.
Rules
Chapter 569 - An Act To Prevent Contamination of Drinking Water Supplies
Chapter 692 - Siting of Oil Storage Facilities
Chapter 700 -Wellhead Protection: Siting of Facilities that Pose a Significant Threat to Drinking Water
Additional Information
Fact Sheet - Double Walled Home Heating Oil Tanks - Updated January 2010 (pdf format)
Fact Sheet - An Overview of An Act to Prevent Contamination of Drinking Water Supplies - June 5, 2008 (pdf format)
Facts & Figures - LD 2073, An Act to Prevent Contamination of Drinking Water Supplies - Maine DEP (pdf format)
Informational handout - Explanation of petroleum contaminated drinking water laboratory results for homeowners - August 2009 (pdf format)
Related Programs
Maine Drinking Water Program (Off Site)
Hazardous Waste/Universal Waste
Home Heating Oil Tanks and Piping
Oil Solid Fuel Board (Off Site)
State Fire Marshal's Office (Off Site)