Drinking Water Protection Act - New- Select this link to view Maine Dept. of Environmental Protection Siting Regulations
The following information is intended to help people considering installing or planning an installation to store flammable or combustible liquids in aboveground storage tanks. This is not to be used as a "Legal Document". Use the appropriate section of the statute, rule, or code for legal purposes. This information pertains to common installations: contact the Fire Marshal's Office if you have questions not covered by this guide. This information is subject to change without notice.
---
Flammable and combustible liquids are hazardous materials. As the owner of an Aboveground Storage Facility, you are totally responsible for the safety of the facility!
Report spills or leaks to Maine Department of Environmental Protection (DEP) at (800) 482-0777 within two hours of the spill or leak. This phone line is manned 24 hours a day.
---
When a tank is out of service, all residues must be removed by a licensed hazardous waste hauler, and the tank must be made vapor-free and safeguarded against trespassing! (NFPA 30, 2008, 21.7.4.1) A tank containing residues is considered an active tank and must have a permit and must continue to be inspected and maintained.
The facility you see that looks good to you may be for a different purpose and comply with a different code, or it may be illegal. That is why we may tell you that you cannot install a facility like the one you saw.
An Aboveground Tank is a tank installed above grade, at grade, or below grade without back fill. (NFPA 30, 2008, 3.3.47.1) A storage tank is a tank having a capacity greater than 60 gallons, is intended for fixed installation, and is not used for processing. (NFPA 30, 2008, 3.3.47.7)
A permit is required for the installation of an aboveground storage tank. The permit must be obtained before any construction is started. (Title 25, M.R.S. §2482). Contact the State Fire Marshal's Office for more information on permit requirements. Call (207) 626-3880. Applications are available on line. Money you spend before the permit is issued is money wasted when we refuse to issue the permit. And you may have to pay more to undo what you already did.

If you are changing an existing facility, include a copy of the permit for the existing facility. Include your DEP registration number and registration date when you do have a DEP registration for the facility. It will help you with your siting review.
When the use of a facility is changed, the facility must be upgraded to meet the requirements for the new use and a Change of Facility permit is required.
A Change of Ownership permit is required when ownership of the facility is changed. Submit a copy of the prior permit with the Change of Ownership application.
Construction plans to be used by the installer, including a site plan showing items listed on the application sheet and distances from the tank to property lines, public ways, important buildings, other tanks, propane storage, and dispensers, and an elevation plan showing end and side views of the tank and each appurtenant device (normal vent, emergency vent, fill pipe, level gauge, interstitial space monitor, etc.) must be included with the application. Submit plans for any building or structure to be used to house or protect a tank. Include building construction type, exiting, sources of ignition, and safety systems and equipment on the building plan.
Plans must be easily legible and show the tanks conspicuously. Plans prepared for purposes other than the application should NOT be used, as they include extraneous information that may impede the plan review process.
The application and plans for a facility with a total aggregate capacity greater than 1320 gallons must be certified by a professional engineer.
Tanks designed for purposes other than as aboveground storage tanks do not meet the requirements of NFPA 30, 2008 and may not be used as aboveground storage tanks. These include tanks designed to be underground tanks, vehicle cargo tanks, vehicle supply tanks,
UL-80 Home Heating Oil Tanks, and underground tanks. (NFPA 30, 2008, 21.4)
Tanks to be located on a site for less than 181 days aggregate do not require a permit but must comply with the appropriate sections of statutes, rules and codes.
Tanks that are an integral part of listed equipment such as generators and fire pumps do not require a permit, but must be installed according to manufacturer's requirements.
The Fire Marshal's Office will forward your application to DEP for their siting approval. A permit cannot be issued if DEP does not approve the site. DEP may contact you directly if there is a problem or concern about the site.
Contact Maine Department of Environmental Protection and federal Environmental Protection Agency (EPA) (40 CFR 112) regarding requirements for a Spill Prevention Control and Countermeasures (SPCC) plan when your facility will have a capacity greater than 1320 gallons aggregate capacity. The engineer used to prepare a SPCC can also certify the application.
Other agencies such as DEP, Maine Emergency Management Agency, Federal EPA, Federal DOT, US Coast Guard, Maine Land Use Planning Commission (LUPC), municipalities, other agencies, and your insurance company may have permitting requirements or other regulations that may apply to your installation. It is your responsibility to comply with the regulations of all other agencies.
Underground piping must comply with Maine DEP regulations. (Title 38 M.R.S. §3)
All tanks, piping, valves, and associated equipment must be listed for the use for which they are intended, and must be used according to their listing. (NFPA 30, 2008, 21.4) (example: a tank listed for combustible liquids use CAN NOT be used as an aboveground tank for flammable liquids.) Listing is a certification from a recognized testing agency. The tank or equipment must show the listing on a label. (NFPA 30, 2008, 3.2.5)
A tank or piping listed for UNDERGROUND use CAN NOT be used as an aboveground storage tank! (NFPA 30, 2008, 21.3.3)
The intended use of the facility will determine the code requirements that are applied. If the facility is intended to provide fuel for automobiles or boats to the public, NFPA 30A, 2008 Code for Motor Fuel Dispensing Facilities and Repair Garages will apply. If the facility is intended to provide fuel for your own equipment or vehicles, or if the facility is for bulk storage, NFPA 30, 2008 Standards for Flammable and Combustible Liquids will be used. A facility permitted as a private fueling facility under NFPA 30 must be upgraded to meet the standards of NFPA 30A before it can be used as a public fueling facility. Facilities for aircraft fueling must comply with NFPA 407, 2007 Standard for Aircraft Fuel Servicing. Facilities for fueling railway locomotives must comply with NFPA 30, 2008.

Flammable Liquids, called Class I Liquids, present a greater hazard than Combustible Liquids, called Class II or Class III liquids. Some requirements may be less strict if the facility is for Class IIIB Combustible Liquids only. These terms are used frequently in the codes. Examples of Flammable Liquids are gasoline, acetone and alcohols. Examples of Class II Combustible Liquids are diesel fuel, kerosene, and biodiesel. Examples of Class III flammable liquids are motor oil and hydraulic fluid. The terms "On Road" and "Off Road" refer to tax status, they are not a fire hazard or property of the product..
Contact the State Fire Marshal's Office for information regarding permits and other requirements for public fueling facilities. (Title 25, M.R.S. §2482)
Tanks for motor fuel at public fueling facilities must be placed according to NFPA 30A Table 4.3.2.4 Minimum Separation Requirements for Aboveground Tanks.
Minimum Distance in Feet

Tank Type

Capacity Gallons

Important Building

Property Line

Public Way

Other Tanks

Dispensing Device

In Vault UL-2245

0-15,000

0

0

0

Separate Compartments

0

Protected UL-2085

6,000 or less

5

15

5

3

0

 

6,001 to 12,000

15

25

15

3

0

Fire Resistant UL-2080

0-12,000

25

50

25

3

25

Other Tanks UL-142

0-12,000

50

100

50

3

50

Propane Storage must be no less than 20 feet from a tank (NFPA 30, 2008, 22.4.2.4)
An individual tank at a public fueling facility may be no more than 12,000 gallons. The total aggregate capacity of the facility may be no more than 48,000 gallons. (NFPA 30-A-2008, 4.3.2.3)
Tanks at private motor fuel facilities, bulk storage facilities, and fuel supply for special equipment must be placed according to NFPA 30 Table 22.4.1.1(b) Reference Table for Use in Tables 22.4.1.1(a), 22.4.1.3, and 22.4.1.5
Capacity of Tank in Gallons

Distance to Nearest Property Line

Distance to Nearest Important Building and Nearest Side of a Public Way

275 or less

5

5

276 to 750

10

5

751 to 12,000

15

5

12,001 to 30,000

20

5

30,001 to 50,000

30

10

50.001 to 100,000

50

15

 

Propane Storage must be no less than 20 feet from a tank (NFPA 30, 2008, 22.4.2.4)

Consult the table in NFPA 30, 2008 or contact the Fire Marshal's Office for separation distances for tank capacities greater than shown here.

 

 
Spill Control must be provided for every tank. (NFPA 30, 2008, 22.11) Spill Control may be a dike with an impermeable liner and with a capacity of 110% of the largest tank within the dike
(NFPA 30, 2008, 22.11.1.2). A "Secondary Containment" tank commonly called a "double wall" tank not more than 12,000 gallons nominal capacity for Class I liquids, and not more than 20,000 gallons nominal capacity for Class II and Class IIIA liquids meets this requirement. (NFPA 30, 2008, Table 22.11.4.1). Spill control should be provided at the tank fill connection.
Supports for tanks shall be made of concrete (protect steel from corrosion), masonry, or protected steel. Steel Support structures shall be protected by materials having a fire resistance rating of not less than 2 hours unless the support is a saddle no more than 12 inches high at the lowest point.
(NFPA 30, 2008, 22.5.2)
Every tank must have a normal vent to prevent over-pressure or vacuum from damaging the tank when it is being filled or product is being withdrawn. The vent for a tank for Class I liquids must be normally closed, and it must terminate no less than 12 feet above ground level. (NFPA 30, 2008, 21.4.3)
Every tank, the interstitial space of a secondary containment tank, and each chamber of a multiple chamber tank must have emergency relief venting to prevent rupture of the tank or chamber if it is exposed to fire (NFPA 30, 2008, 21.7.1).
Normal and emergency vents for tanks inside buildings shall terminate outside the building. (NFPA 30, 2008, 24.13.5)
Every tank must be inspected regularly and be maintained in proper operating condition. Every tank must be maintained liquid tight. A tank that is leaking must be emptied or repaired in a manner acceptable to the Fire Marshal's Office. Tanks that have been damaged, repaired, or are suspected of leaking must be tested. (NFPA 30, 2008 21.8)
All piping must be liquid tight. Any piping that is leaking or seeping must be removed from service immediately until it is repaired or replaced. (NFPA 30, 2008, 27.3.2)
Fill pipes that enter the top of a tank shall terminate within 6 inches of the bottom of the tank. They shall be installed to minimize vibration. (NFPA 30, 2008, 21.4.4)
Aboveground piping must be substantially supported and protected against physical damage (NFPA 30, 2008, 27.6). Underground piping must be installed in compliance with DEP regulations.
There are special requirements if the tank is in an area subject to flooding. (NFPA 30, 2008, 22.14) Contact the Fire Marshal's Office to discuss methods of securing the tank from floating in a flood.
All tanks located where they are subject to vehicular impact must have collision protection (NFPA 30, 2008, 22.15). Bollards or barricades provide the required protection.
All electrical wiring and equipment must be of the type specified by and installed in accordance with NFPA 70, National Electrical Code (NEC) (NFPA 30, 2008, Ch 7)
There are many extra requirements and other codes for a "Storage Tank Building" (NFPA 30, 2008, Ch 24). Discuss plans for any structure in the diked area or surrounding tanks with the State Fire Marshal's Office.
Any structure at or over a tank (including cat walks) must be built of non-combustible materials (NFPA 30, 2008, 22.12.5)
An emergency action plan to respond to fires or other emergencies (spills and leaks, etc.), consistent with available equipment and personnel, shall be established. Planning for effective fire control measures shall be coordinated with local emergency response agencies. (NFPA 30, 2008, 21.6.5)
All tanks must have a method to prevent overfilling. A mechanism that blocks the normal vent or emergency vent CANNOT be used. The method of Overfill prevention must (a) notify the fill operator that filling is nearing completion, and (b) stop delivery prior to the tank becoming totally full.
(NFPA 30, 2008, 21.7.1)
Secondary containment tanks require an audible alarm that will sound at 90% of capacity, and will stop the flow of product at 95% of the tank capacity. (NFPA 30, 2008, 22.11.4.5)
Each tank shall be marked to show the product stored in the tank (example: gasoline) and the hazard USING THE NFPA 704 STANDARD SYSTEM FOR THE IDENTIFICATION OF THE HAZARDS FOR THE IDENTIFICATION OF THE HAZARDS OF MATERIALS FOR EMERGENCY RESPONSE (NFPA 30, 2008, 21.7.2.1).
The guide numbers will be found on the Material Data Sheet for the product that is available from your supplier. The hazard guide numbers are required on the permit application.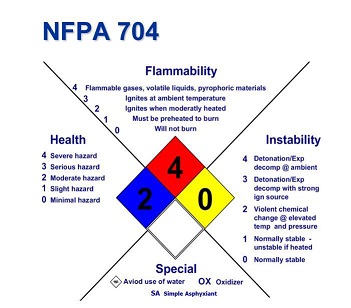 Smoking shall be allowed only in marked, designated areas. (NFPA 30, 2008, 6.5.2)
The ground area around flammable or combustible liquid storage facilities shall be kept free of weeds, trash, or other unnecessary combustible materials. (NFPA 30, 2008 21.6.6.3)
NFPA codes can be reviewed for free at: http://www.nfpa.org/codes-and-standards/all-codes-and-standards/list-of-codes-and-standards