Hazardous Air Pollutants: Overview
---
The air we breathe can become contaminated with pollutants from a variety of natural and man-made sources. Since federal legislation involving ambient air quality was enacted in 1970, air pollution control has focused on criteria air pollutants, including sulfur dioxide (SO2), carbon monoxide (CO), nitrogen oxides (NOx), ozone (O3), and particulate matter, which are primarily by-products of fuel combustion. However, due to increasing scientific evidence of their effects on human health, the focus of ambient air quality has shifted to include not only "criteria" air pollutants, but also "toxic" air pollutants, also known as hazardous air pollutants (HAPs). Hazardous air pollutants are defined as those pollutants that are suspected of causing cancer or other serious health effects in humans.
In order to help protect the health of Maine residents and preserve our environment, the State of Maine Department of Environmental Protection, Bureau of Air Quality (DEP) developed this web page to inform Maine's public of the hazards associated with outdoor air pollutants. In addition, the Environmental Protection Agency (EPA) developed a program to control hazardous air pollutant emissions, which is set forth in Section 112 of the 1990 Clean Air Act Amendments (CAAAs). This program sets emission standards and is designed to reduce the emissions and ambient air impact of a number of hazardous air pollutants likely to be emitted by business and industry in the state.
---
What are hazardous air pollutants?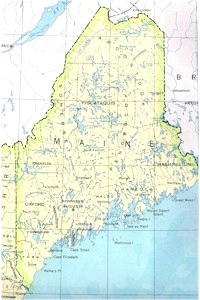 According to the EPA, hazardous air pollutants are those pollutants that are known or suspected to cause cancer as well as other serious health effects.
Many hazardous air pollutants originate from human-made sources, including mobile sources (e.g., cars, trucks, buses) and stationary sources (e.g., factories, refineries, power plants), as well as indoor sources (e.g., some building materials and cleaning solvents). Hazardous air pollutants are also released from natural or biogenic sources such as volcanic eruptions and forest fires. Hazardous air pollutants may exist as particulate matter or as vapors. Examples of gaseous hazardous air pollutants include benzene, toluene, and xylenes which are found in gasoline; perchloroethylene, which is used in the dry cleaning industry; and methylene chloride, which is used as a solvent by a number of industries. Examples of hazardous air pollutants which typically exist as particulate matter include heavy metals such as cadmium, mercury, chromium, and lead compounds; and semi-volatile organic compounds such as polycyclic aromatic hydrocarbons (PAHs) which are generally emitted from the combustion of fuels.
Visit EPA's website for more information about hazardous air pollutants.
---
What are the human and environmental effects of hazardous air pollutants?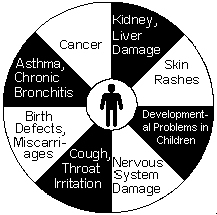 The emission of hazardous air pollutants into the air can have serious effects on human health and the environment. Human exposure to these pollutants can include both short-term (acute) and long-term (chronic) complications. Many factors can affect how different hazardous air pollutants may impact human health, including the quantity which a person is exposed to, the development stage of the person, the duration and frequency of the exposure, the toxicity level of the pollutant, and the person's overall health and level of resistance or susceptibility. Short-term exposures can result in eye irritation, nausea or difficulty in breathing. Long-term exposures to many air toxics may result in damage to the respiratory or nervous systems, birth defects, and reproductive effects.
In addition, hazardous air pollutants can have indirect effects on human health through deposition onto soil or into lakes and streams, potentially affecting ecological systems and eventually human health through consumption of contaminated food.
---
What are the sources of hazardous air pollutants?
There are several man-made sources of hazardous air pollutants in Maine. These sources may be divided into three categories. Each of these source categories are described below.
point sources
area sources
mobile sources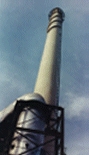 A point source (also known as a major source) is a non-mobile, stationary source that emits or has the potential to emit 10 tons or more per year of any one of the listed HAPs, or 25 tons or more per year of combined HAPs. Examples of point sources can include manufacturing plants, paper mills, large printing and coating operations, and power plants. These sources can release hazardous air pollutants through emissions from stacks and vents, fugitive process emissions, equipment leaks during material transfer and handling, or accidental releases. EPA estimates that 26% of all man-made HAP emissions come from point sources. With the implementation of the Federal Hazardous Air Pollutant Regulations and the state's air emission licensing program, major point sources have installed controls and/or have implemented management practices to reduce hazardous air pollutants.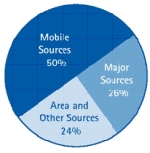 Area sources are smaller sources of hazardous air pollutants, each releasing less than 10 tons per year of any individual HAP and less than 25tons per year of combined HAPs. Examples of area sources include dry cleaners, gas stations, small print shops, auto body shops, electroplaters, and furniture manufacturers. Area sources also include consumer products used in homes and offices such as cleaners, pesticides, paints, and glues. Even though emissions from each individual area source may be relatively small, their collective emissions may create significant health risks particularly where there are a large number of area sources located in close proximity or when they are located in populated areas. The EPA has estimated that 24% of all man-made hazardous air pollutant emissions are attributable to area sources.
Mobile sources include automobiles, trucks, buses and non-road vehicles such as boats, trains, farm equipment, and recreational vehicles. Car and truck emissions are the largest contributor of air pollution generated in Maine. Hazardous air pollutants are generated by mobile sources through the incomplete combustion of fuel as well as through the evaporation of hazardous components of the fuel. Even with major reductions in hazardous air pollutants being released in vehicle emissions over the past two decades, people are driving more today. EPA estimates that 50% of all man-made hazardous air pollutant emissions come from mobile sources. For additional information on mobile sources in general, refer to EPA's web site.
---
Programs to control hazardous air pollutant emissions in Maine.
Several programs have been implemented in Maine to control the emissions of hazardous air pollutants. A summary of each of these programs is presented below.
Major Stationary Sources
Major stationary sources of HAPs (and some area sources that are of particular concern) in Maine are subject to the National Emissions Standards for Hazardous Air Pollutants (NESHAPs) found in Title III of the Clean Air Act Amendments (CAAA) of 1977. Rather than setting ambient air quality standards for each pollutant, the 1990 CAAA directed EPA to set technology-based standards. The technology standards use maximum achievable control technologies (MACT) for approximately 175 source categories that require reductions of HAP emissions. These MACT standards have been phased in over the past several years. When fully implemented, these standards are expected to significantly reduce total annual HAP emissions to the ambient air.
Area Sources
The EPA and the Department have also implemented regulations to reduce emissions from area sources. For instance, both the EPA and the Department have promulgated regulations reducing emissions from auto-refinishing. The Department has also finalized rules targeting volatile organic compounds (VOCs) from paints, coatings, and adhesives. Although these rules target VOCs, they often have the additional benefit of reducing hazardous air pollutants.
Mobile Sources
In a report to Congress, the EPA notes that mobile source emissions have declined by 50% over levels in 1990.1 Despite the impressive progress made in developing and introducing clean vehicles and fuels, motor vehicles still contribute a significant portion of the emission inventory for hazardous air pollutants. While per vehicle emissions have declined dramatically, vehicle ownership and miles traveled continue to increase. Car and truck emissions are one of the largest contributors of air pollution generated in Maine. Maine has several programs in place which help to reduce emissions of hazardous air pollutants from mobile sources.
1National Air Toxics Program, the Second Integrated Urban Air Toxics Report to Congress. (08/21/2014)
Low Emission Vehicle Program - new cars today are capable of emitting 90% less hydrocarbons over their lifetimes than the uncontrolled models of the 1960s. Most hazardous air pollutants are hydrocarbon compounds, so any hydrocarbon control program indirectly reduces hazardous air pollutant emissions as well. All new vehicles sold in Maine must meet California's Low Emission Vehicle (LEV) standards. The most significant difference from the federal program is the California LEV program includes an important component that requires a percentage of the fleet to be certified as meeting zero emissions (ZEV). The ZEV requirement is likely to lead to additional reductions in volatile organic compounds and hazardous air pollutant emissions resulting in improved air quality and health benefits.
Vehicle Inspection and Maintenance Program - (I/M) is a way to check whether the emission control system on a vehicle is working accurately. All new passenger cars and trucks sold in the United States today must meet stringent pollution standards, but they can only retain this low-pollution profile if the emission controls and engine are functioning properly. All 1996 and newer model year vehicles sold in the U.S. are equipped with second-generation engine/emissions diagnostic systems called On-Board Diagnostics or OBDII. OBDII systems monitor virtually all components that make up the engine management and emission control systems and can detect malfunctions or deterioration of these components, often well before the motorist becomes aware of any problem. They also help in diagnosing and repairing the vehicles. Vehicles registered in Cumberland County are required to have an OBD II inspection annually.
Reformulated Gasoline - After June 1, 2015, retailers who sell gasoline in York, Cumberland, Sagadahoc, Androscoggin, Kennebec, Knox, or Lincoln County will sell only federal reformulated gasoline (RFG). RFG has a lower volatility than conventional fuel and should achieve greater volatile organic compounds (VOC) reductions. The federal RFG program is designed to reduce auto emissions of oxides of nitrogen (NOx), and VOCs by 25 percent during the ozone season, and hazardous air pollutant emissions (e.g. benzene, 1, 3 butadiene, formaldehyde, acetaldehydes) by 25 percent year round. NOx and VOCs are the primary contributors to the formation of ground level ozone.
Alternative Fuels - A switch to fuels that are cleaner than today's gasolines offers another strategy for reducing hazardous air pollutants. For example, using natural gas, propane or electricity as a fuel will result in fewer emissions of hazardous air pollutants. Some auto manufacturers are producing electric vehicle models and plug-in hybrid vehicle models for consumer purchase, while other vehicles can be converted to use natural gas and propane. Visit this site to learn more about alternative fuels.
---
Programs that track hazardous air pollutant emissions.
Toxic Release Inventory (TRI)
EPA maintains a program for reporting releases and transfers of toxic chemicals to the environment known as the Toxic Release Inventory (TRI). The TRI is a database of information about releases of more than 650 toxic chemicals from manufacturing facilities throughout the US. TRI data from affected Maine facilities using, manufacturing, treating, or releasing any of the listed toxic chemicals are reported to EPA on an annual basis. Although the TRI database represents only a subset of total toxic emissions, the information can be used to identify trends in hazardous air pollutant emissions on an annual basis. Based upon reported TRI data since 2003, Maine has reduced its hazardous air pollutant emissions by over 42% (see the graph below).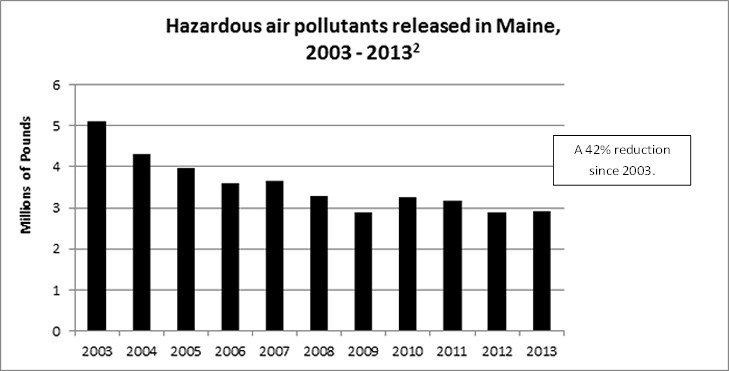 2Data from http://iaspub.epa.gov/triexplorer/tri_release.chemical using the following criteria: for Maine, Chemical = Hazardous Air Pollutants, stack and fugitive emissions, and all industries included for each year shown on the graph.
US EPA National scale Assessment
One tool that helps us evaluate potential human exposure to hazardous air pollutants is the National-Scale Air Toxics Assessment (NSA). The backbone of the NSA is EPA's National Emissions Inventory (NEI) for HAPs. For documentation on the development of the 1996 and later NEI emissions estimates, refer to the EPA's NEI web page. Since the NSA utilizes 1996 emissions data, it is not representative of current conditions in Maine, especially in light of the fact that the TRI data for Maine indicates an overall reduction in HAP emissions.
Emissions Inventory Program The Emissions Inventory Program is responsible for compiling data on the release of air pollutants from a variety of sources. The Emissions Inventory Program uses many data sources in conjunction with statistical modeling to calculate emissions from point sources (air licensed facilities subject to DEP's Ch. 137), mobile sources (cars, trains, etc.), and nonpoint sources (such as drycleaners and asphalt paving). The periodic compilation of the air pollutant emissions data is called an inventory. For data compilation purposes, air pollutants are divided into three broad categories: criteria pollutants, hazardous air pollutants, and greenhouse gases. Every three years an inventory is done for all sources for the three categories of air pollutants. Mobile emissions are estimated with software developed by EPA called MOVES. Nonpoint emissions are estimated using a variety of data sources and estimation tools provided by EPA. During the triennial inventory point sources subject to Ch. 137 report hazardous air pollutants along with the criteria and greenhouse gas emissions that are submitted annually.
Ambient Air Toxics Measurement Program Maine monitors for 25 air toxic compounds at five locations in the state. The monitoring is to document background concentrations and to establish whether there are any trends in the levels of these compounds. In addition, several of the metals that are listed as hazardous air pollutants are also being measured at the particulate monitoring sites. Maine continues to expand its sub-ambient canister sampling equipment inventory for measuring acrolein using EOA's TO-15 method and may establish additional monitoring locations if emissions inventory data indicates the potential for a "hotspot" area for any of the priority hazardous air pollutants.
---
Who do I contact for more information?
For more information on Maine's programs to control toxic air pollutants, contact Richard T. Greves at (207) 287-7030.