Get Automated – Bring Your Library into the 21st Century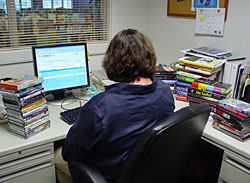 You can now catalog a dozen books in the time it used to take to catalog one.
Did you know that the first library automation system was in use in 1934? Boston Public Library implemented a punch card system that year to track book purchasing and circulation transactions. In 1950, the Library of Congress put their card catalog on a punch card system.
We've come a long way since then. Library automation systems are now on the web eliminating the need for the library to maintain a server or worry about backups. The vendor does all that for you.
Automation is a Time Saver
Why should you think about automating your library? Automating your catalog and circulation functions saves time which also saves money. Producing a set of cards for the card catalog takes about 60 minutes to type and file. A catalog record can be entered into an automation system in less than 5 minutes so you can now catalog a dozen books in the time it used to take to catalog one. Apply those same efficiencies to producing overdue notices and you have another major time savings.
Reports Made Easy
Automation systems also produce useful reports that can save time. Need circulation totals for your annual report? Chances are your automation system has a report for that. Want to know the value of your collection for insurance purposes? If you've included the retail price of the item in the catalog record then your automation system can give you that total.
Get automated – bring your library into the 21st century and allow your patrons to search your holdings from home or the office. Look into the future when all of Maine's library holdings can be accessed in one catalog for the benefit of all the citizens of Maine. Wouldn't you like to be a part of that?