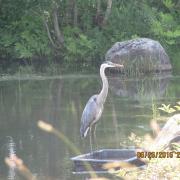 March 19, 2021 at 3:45 pm
As a biologist, I know death is as much a part of the life cycle of all organisms as life itself, but it can still be difficult to contend with especially after you've "gotten to know" an individual animal by following its movements for nearly five years. That individual is Nokomis, a great blue heron we tagged with a GPS transmitter in 2016.
Keep In Touch!
Enter your email or mobile number to receive the latest news from MDIFW.