Maine Pumpout Stations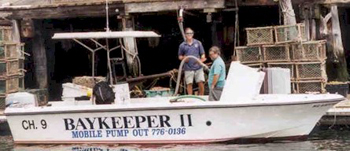 Pumpout Requirements for Maine Marinas
Boatyards and marinas over a certain size must provide pumpout services to their customers and must ensure that the pumpout system is accessible and operable at all stages of the tide. Marinas that have accepted grant money from the DEP for installation, operation and maintenance of pumpout stations are limited to charging $5 or less for service, other marinas are limited to a maximum charge of $10.
There are almost 100 pumpout stations along the Maine coast and on larger lakes. Pumpout station locations and contact information can be found in a number of boating publications. You can also download the 2013 Maine Pumout Guide or see pumpout locations via Google Earth.
Fore more information, see our boat holding tank pumpout program fact sheet.
Contact
If you find a pumpout stations that is not operational, or are being charged more than $10 per average pumpout, please contact Pam Parker, 207-485-3038
New England Pumpout Locations
Pumpout boats
For information on pumpout boats contact:
The Friends of Casco Bay 207-799-8574: to schedule a pumpout, call 207-776-0136
The Town of Boothbay Harbor 207-633-4220 (for information and pumpout service)
The Town of Camden Harbormaster 207-236-7969 (for information and pumpout service)
Red Fern Pumpout Boat @ Up Harbor Marine 266-0270 (for information and pumpout service)
Related links