Lesson Plans
The activities below are a great way to get your kids up and out of their desks while continuing to teach them the critical environmental information. We have compiled these activities after careful trial and can offer staff to come into your classroom to help present many of them. Please check back periodically as we will highlight a complete lesson plan each month. if you would like a copy of any of the lesson plans listed please contact Denise Blanchette.
If you are interested in any of these curricula, please call or email Denise Blanchette at 215-5040. Before calling, be aware of your specific goals, objectives and available resources.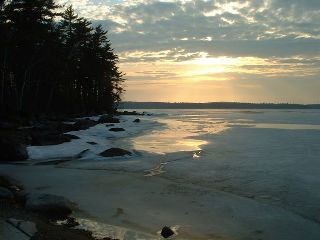 Swimming, boating, and fishing attract people from all over the northeast to Maine lakes during the summer. In winter too, Maine lakes offer skating, snowmobiling, and ice fishing until late winter when the ice starts to melt. In olden days, people used lakes instead of roads and often floated logs to mills when there was no ice.
The day in the Spring when all the ice has disappeared is called "ice-out". The people who used lakes for work started keeping track of "ice-out" as early as the 1880s.
Today, scientists continue to record the date of "ice-out" using Julian days. Instead of using months they just number the days starting with January 1 as day one. February 1 would be day 32 and March 1 would be… well that depends if it is a leap year. The U.S. Geologic Survey (USGS) has compiled ice out dates for 29 lakes in New England in a report available on the web. Follow the link above to use the "Seasonal Magic" lesson to guide your students in tracking ice-out here in Maine.