Courtesy Boat Inspections
Video #1 - DEP's invasive aquatic biologist John McPhedran demonstrates how to do a thorough boat inspection in under 3.5 minutes.
Video #2 - Developed for Maine's Courtesy Boat Inspection Program inspectors, this 8 minute video discusses the importance of protecting our lakes and shows how to interact with boaters while walking them through an inspection of their boat.
Related pages: For information on starting your own Courtesy Boat Inspection as well as guidance on training and financial aid, contact Lakes Environmental Association. (off-site)
Cost Share Grants: cost share grants for local projects to prevent the spread of invasive aquatic plants - inspections and plant removal.
Background
Maine's Courtesy Boat Inspection (CBI) Program completed its 18th year in 2018. The purpose of these voluntary inspections is to reduce the spread of invasive aquatic plants (IAP) by boats, trailers, and associated equipment to Maine waters. Trained Courtesy Boat Inspectors discuss with boaters the risk posed by IAP, show boaters how to inspect and remove vegetation from boating and fishing equipment, and urge boaters to inspect before and after every launch.
The Maine Department of Environmental Protection (DEP) contracted again with Lakes Environmental Association in Bridgton to provide inspector training and assist DEP with grant oversight and communications.
Courtesy Boat Inspection Results Summary 2018 Season
Maine's 2018 Courtesy Boat Inspection program had another busy season, recording 87,939 courtesy boat inspections. To achieve this, 43,406 inspection hours were logged in 2018, roughly equivalent to 21 full-time employees. Boats were inspected both entering and leaving the water with the majority of inspections (59%) conducted on boats entering. Maintaining this high level of prevention effort is a tremendous achievement for local and regional groups running the inspection programs.
Once again bass clubs participating in club tournaments were required to conduct inspections as a condition of their permit from the Maine Department of Inland Fisheries and Wildlife. In 2018, 41 bass clubs conducted 4,574 inspections at club tournaments.
2018 Courtesy Boat Inspection Statistics
87,939 total inspections on both motorized and non-motorized boats
91% of the motorized boats had the Lake & River Protection Sticker
160 launch sites on 123 waterbodies had Courtesy Boat Inspections
17 infested waterbodies had a Courtesy Boat Inspection Program
3,532 inspections (4.0%) yielded plant fragments – native or invasive

of these intercepted plant fragments, 95 (2.7%) were "saves" (invasive plants) found primarily on boats exiting infested waters

53 organizations conducted courtesy boat inspections – plus 41 bass clubs inspected at their permitted tournaments
592 courtesy boat inspectors (paid and volunteer) worked a total of 43,406 hours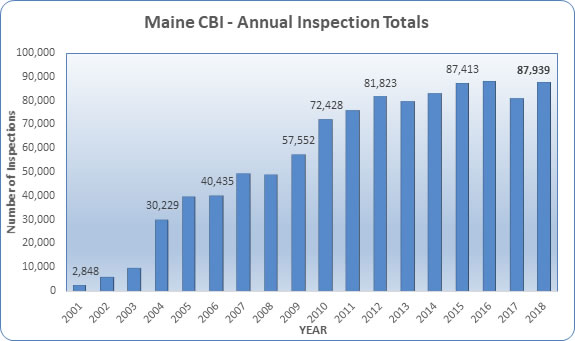 Confirmed "Saves" in 2018
There were six notable saves in 2018. Five inspections on boats entering a lake yielded Eurasian water milfoil fragments, an invasive plant known only in one lake and two small ponds in Maine. The boaters came from Mendota Lake, WI; Lake Champlain, VT; Candlewood Lake, CT; Boone Lake, MA; and St. Lawrence River, NY. Furthermore upon closer examination of the fragment from the St. Lawrence River, a very tiny zebra mussel was discovered! Maine has no known zebra mussels in our waters.
The table below lists all 95 saves in 2018.
LAKE NAME

Town

Number of "saves"

Boat Direction

Invasive Plant

Great East Lake

Acton

1

entering

variable leaf milfoil

Lake Arrowhead

Limerick

3

entering

variable leaf milfoil

54

leaving

variable leaf milfoil

Long Lake

Harrison

1

entering

Eurasian milfoil

Messalonskee Lake

Oakland/Sidney

3

entering

1 Eurasian milfoil

2 variable milfoil

13

leaving

variable leaf milfoil

Panther Pond

Raymond

1

entering

variable leaf milfoil

Pennesseewassee Lake

Norway

3

entering

1 Eurasian milfoil

1 variable milfoil

**Zebra Mussel

Pleasant Pond
Litchfield
1
leaving
variable leaf milfoil
Sebago Lake State Park

Naples

3

leaving

variable leaf milfoil

Sebago Cove
Naples
1
leaving
variable leaf milfoil
Songo River Lock
Naples
4
entering
variable leaf milfoil
Thompson Lake
Oxford
1
entering
variable leaf milfoil
4
leaving
variable leaf milfoil
Toddy Pond
Orland
1
entering
Eurasian milfoil
Tricky Pond
Naples
1
entering
Eurasian milfoil
For more information concerning Maine's Courtesy Boat Inspection Program, visit the Maine DEP's Invasive Aquatic Species Program website at http://www.maine.gov/dep/water/invasives or the Lakes Environmental Association website at https://mainelakes.org/, or e-mail DEP at milfoil@maine.gov