Fairfield PFAS Investigation
The Maine Department of Environmental Protection (DEP) is currently investigating an area of Fairfield for the presence of per- and polyfluoroalkyl substances (US EPA PFAS) in the environment. The investigation began after the Department of Agriculture, Conservation and Forestry detected perfluorooctanesulfonic acid or PFOS in an on-farm milk sample taken from an area dairy farm. PFAS have been used for a long time in many consumer products and are persistent in the environment.
Sampling Information
DEP has conducted water sampling within an area generally bounded between Route 139 (Norridgewock Road) and Route 201, with an emphasis on areas on the Ohio Hill Road near its intersection with Route 201, Currier Road and Nyes Corner Road; Middle Road; Green Road; and Howe Road. This area may be expanded as sampling results continue to be evaluated.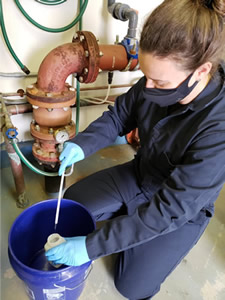 When deciding where to sample, the Department considers area-specific information including soil types and the direction of groundwater flow to prioritize the testing of wells that are most likely to be at the highest potential risk. In addition, a phased approach to sampling is typically conducted where sampling areas are broadened over time based on an evaluation of results including whether there have been any exceedances of the U.S. EPA Health Advisory Level. While the Department's current focus is on monitoring residential water supplies, soil and surface water in the area have also been sampled.
Sampling Results
Although no federal or state maximum contaminant level for PFAS in drinking water currently exists, the U.S. EPA has established a Health Advisory Level of 70 parts per trillion (ppt) individually or combined for perfluorooctanoic acid (PFOA) and PFOS in drinking water.
Sample results received to date are provided in this interactive map (opens in new tab). The map indicates sample points as either above or below 70 ppt and also notes locations that the Department has sampled but has not yet received results. This map will be updated as more information becomes available.
Bottled Water Information
Until filter systems are installed at impacted homes and the results from the first monitoring round verify the effectiveness of the filter system, the Department will supply bottled water to residences with water supplies containing concentrations of PFAS above the U.S. EPA Health Advisory Level. The Department is working with the Town of Fairfield, who will be dispensing the bottled water. Please consult the Town of Fairfield's website for information regarding bottled water pick-up.
Filter System Information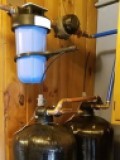 As an interim measure until an alternative approach is available, and subject to available funding, the Department will pay for the installation and maintenance of granular activated carbon or resin filtration systems (filter systems) on private residential water supplies at or near licensed residual land application sites in Fairfield where the U.S. EPA PFAS Health Advisory Level or a regulatory-based PFAS drinking water standard has been exceeded. These filter systems are being offered because there is an immediate need to protect the health of residents by ensuring they have access to a reliable and safe water supply, where other regulatory options have not been identified. The Department will continue to pursue additional funding and other remedies for a long-term sustainable strategy and to ensure affected homeowners have safe water to drink.
Filter systems will consist of either two granular activated carbon treatment units or resin-based treatment units with a water meter based on each home's water quality results. Sampling ports will be added to the system so water can be sampled before, between, and after each treatment unit. The systems were designed based on past experience and in consultation with the Department's filter system vendor. General information about treating PFAS in drinking water can be found on U.S. EPA's website. Water softener systems may also be installed to maintain appropriate treatment depending on each home's specific water quality. The Department will regularly monitor the effectiveness of the systems in treating PFAS and provide the results to each homeowner. Once installed, each homeowner will receive information about their specific system as well as contact information should questions arise.
Filter System Installation Schedule
Filter system installation began at impacted residences on January 25, 2021. Installations will continue thereafter, and each homeowner will be provided with an approximate schedule for their filter system installation. Filter system agreements will be provided to property owners. The agreements will outline the basic responsibilities of both the property owners as well as the Department and grant the Department access to monitor and maintain the filter systems.
Additional Information