Geographic Response Strategies for
Maine and New Hampshire

Coastal Response Strategies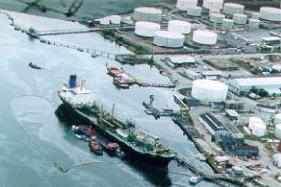 Geographic Response Strategies (GRSs) cover portions of the coasts of Maine and New Hampshire. The Maine GRSs emerged in response to the 1991 legislation which created the Maine Marine Oil Spill Contingency Plan. These and the New Hampshire GRSs have been incorporated into the Maine and New Hampshire Area Contingency Plan for response to marine releases. The GRSs were developed during a series of workshops where local harbormasters, planning committees, response organizations, and non-governmental organizations identified priority areas along the Maine and New Hampshire coasts and developed strategies to protect them.
Each Coastal GRS consists of two pages. The first page contains an aerial photo and nautical chart of the area with the booming strategy visually laid out. The second page contains a description of the strategy, including local site conditions, total length and type of boom required to execute the strategy, site access, staging and launch areas, collection points, and any social, historical, and environmental concerns located at or near the strategy location. GRSs are divided into four regions, spanning from Hampton, NH to Eastport, ME. GRSs are reviewed and revised on an ongoing basis based on field observation, deployment practice, or new techniques or technologies.
Geographic Response Strategies for Google Earth
The following portfolios contain all maps for a region. Compressed files are good for web use. High Resolution files are good for printing.
All Regions (181 maps)
Region A (59 maps)
Region B (50 maps)
Region C (44 maps)
Region D (28 maps)
For individual maps, click a box in the map below to access a regional list.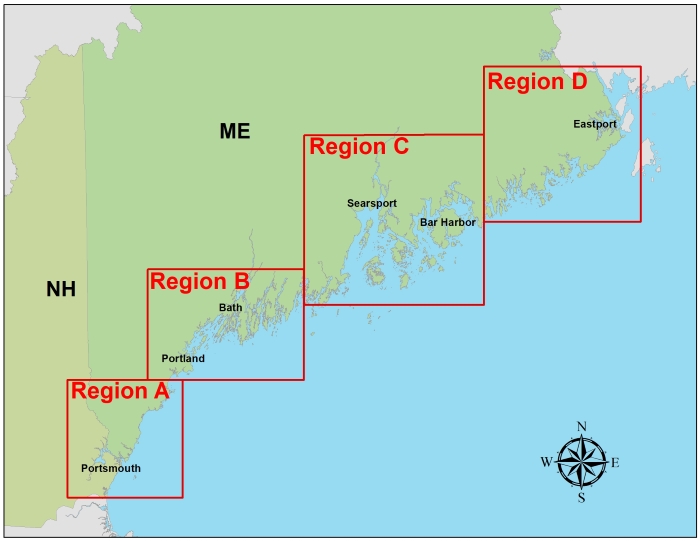 Inland Response Strategies
EPA has contracted for the design of 10 response strategies for inland areas along the Kennebec and Penobscot Rivers. Those response strategies, along with the Region 1 Inland Area Contingency Plan, are available from the Regional Response Team web site. You can also access the strategies using the tables below.
Map of EPA Inland Response Strategies: Image | Downloadable PDF
Kennebec River
| Strategy | Name | Location | Updated |
| --- | --- | --- | --- |
| | Skowhegan | Skowhegan, ME | 6/27/2016 |
| | Waterville | Waterville, ME | 6/27/2016 |
| | Hallowell | Hallowell, ME | 6/27/2016 |
Penobscot River
| Strategy | Name | Location | Updated |
| --- | --- | --- | --- |
| | Brown Islands | Mattawamkeag, ME & Penobscot Nation | 6/27/2016 |
| | Mattanawcook & Chokecherry Islands | Lincoln, ME & Penobscot Nation | 6/27/2016 |
| | Howland/Stanford Dam | Benton, ME | 6/27/2016 |
| | Milford/Indian Island | Milford, ME & Penobscot Nation | 6/27/2016 |
| | Brewer | Brewer, ME | 6/27/2016 |
Sebasticook River
| Strategy | Name | Location | Updated |
| --- | --- | --- | --- |
| | Pittsfield | Pittsfield, ME | 6/27/2016 |
| | Benton | Benton, ME | 6/27/2016 |