Camp Roads, Unpaved Private Roads, and Other Dirt Roads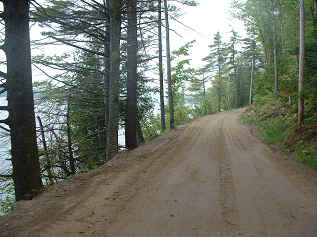 Camp Roads and Water Quality
Camp roads provide access to your summer retreat or home but can also be a major source of sediment and other pollutants to your local lake or stream.
The nutrients attached to camp road sediment can be bad news for lakes. Phosphorus from road sediment can cause algal blooms and cause other negative impacts to water quality.
More on the Impact of Camp Road Erosion on Lakes.
Camp Road Maintenance
Proper road maintenance protects local water quality and ensures the road will be free of potholes, ruts, and other problems that make a road dangerous and difficult to travel on. To do this, the road needs to be designed and maintained to shed water from its surface into nearby wooded areas.
Road Associations
Having a road association can provide a way for you and other road users to formally manage the road in an organized and cost-effective manner. An effective camp road maintenance program is a major step towards helping protect your local body of water.
To learn about the benefits of, the types of, and how to form road associations, go the Road Associations website.
State Laws Related to Camp Roads
The following are general descriptions and should not be used in any legal manner. Go to the actual statute for details or contact your regional DEP "on-call" person during business hours.