South Portland/Portland VOC Air Quality Monitoring Project
At the request of South Portland City officials, DEP staff attended an April 16, 2019 City Council public workshop focused on citizen concerns about odors and air emissions coming from petroleum product storage facilities in the city. One topic that was repeatedly expressed by the residents who spoke, was the very strong desire for air quality monitoring to be conducted within the City's boundaries, since none had been done since the early 2000s. DEP made a commitment at the workshop that it would work with the City to accomplish that goal. On August 28, 2019, officials from the City of Portland formally communicated identical air quality concerns of their citizens about the same VOC sources in South Portland. Since then, Air Bureau staff have collaborated with officials from both cities and other local partners to plan an ambient air quality monitoring project, where the monitoring objective is to collect data that will help answer the question "Is the air safe to breathe?"
The initial focus of the monitoring project is to measure Volatile Organic Compounds (VOCs), since they constitute a large majority of the compounds associated with the types of odors being reported, as well as air emissions that come from the facilities of concern. VOCs were also chosen because making that type of measurement is something that the Air Bureau air monitoring program is already set-up to do (and is doing) and capable of supporting.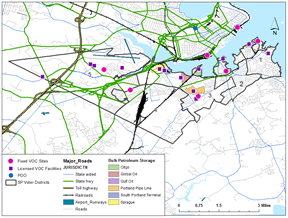 The project consists of two phases: 1) an early "grab sampling" effort in South Portland, and 2) a network of eight fixed 24-hour sampling sites (five in South Portland and three in Portland). The grab sampling phase was launched on June 10 and concluded on September 15. As of November 1, all planned 24-hour sampling sites were established and are currently taking samples on a frequency of every-6-days. DEP has committed to run these sites for one full year from the network completion date, that is, until November 2020.
Fixed 24-hour sampling site locations and status:
DEP Presentation given at City Council at August 20, 2019 meeting.
DEP Presentation given at City Council at November 26, 2019 meeting.