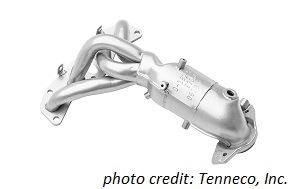 Maine's Catalytic Converter Standards
Maine's new aftermarket catalytic converter requirements are effective June 1, 2018. These requirements include:
After the warranty of the original equipment on a vehicle has expired, replacement catalytic converters must either be original equipment parts or a new aftermarket catalytic converter (AMCC) certified by the California Air Resources Board (CARB). This requirement applies to:
Model year 2001 and newer vehicles gasoline vehicles under 14,000 pounds GVW certified by CARB and US EPA 50 state certification.
This regulation does not apply to:
vehicles certified by U.S. EPA, but not 50 state certified,
pre-2001 model year vehicles which may still use federal AMCCs, or
diesel vehicles.
CARB certified catalytic converters provide greater emission reductions and have a longer warranty than other catalytic converters.
Frequently Asked Questions regarding Aftermarket Catalytic Converter Requirements & Used Catalytic Converter Prohibition.
New Aftermarket Catalytic Converter Standards
A new AMCC is defined as being constructed of all new materials and is not an original equipment catalytic converter. New AMCCs will be required to:
Display a certification stamp or label on the catalytic converter shell. The label or stamp must display the a.) CARB Executive Order approval number, b.) the part number, c.) date of manufacture, and d.) proper installation direction. CARB database
Comply with a vehicle's original emissions certification limits.
Be compatible with the onboard diagnostic systems (OBD II) on 1996 and newer vehicles.
Be covered by a warranty for a period of 5 years or 50,000 miles of use. The warranty will cover failures related to construction defects, performance defects, and OBD II compatibility issues.
Prohibition of Used Catalytic Converter Sales
Effective June 1, 2018, it is unlawful for any person to sell, offer for sale, advertise, or install any used, recycled, or salvaged catalytic converter on any vehicle in Maine. This prohibition applies to all vehicle types. A used catalytic converter is not a new aftermarket catalytic converter, or a replacement part.
Requirements
Effective June 1, 2018, only CARB certified AMCCs or original equipment can be advertised, sold, or installed on CARB vehicles model year 2001 and newer in Maine.
Each person engaged in business of retail sale or installation of an AMCC shall maintain records of such activity which indicate date of sale, purchaser name and address, vehicle model and work performed if applicable. Such records shall be available for inspection by the DEP and shall be maintained for four years from the date of sale or installation.
Installers of AMCCs are required to complete a warranty card in triplicate with the original going to the customer, one copy to the installer, and one copy to the manufacturer of the converter.
he DEP periodically conducts audits at facilities to ensure compliance with the requirements. Failure to comply with any of these above requirements may lead to civil penalties.
As a vehicle owner, what are my options if my vehicle's catalytic converter needs to be replaced after June 1, 2018?
Verify the emission certification of the vehicle from the label under the hood.
Verify the vehicle manufacturer's warranty for the original equipment catalytic converter has expired. Warranties will range from 8 years/80,000 miles up to 15 years/150,000 miles for hybrid, plug-in hybrid and partial zero emission vehicles (PZEV).
For those CARB vehicles which the warranty has expired, all catalytic converter replacements should be either a CARB AMCC or an original equipment (OE) converter replacement part.
The new CARB AMCC is warrantied for 5 years/50,000 miles. The OE part is warrantied for one year.
Used, salvaged, or recycled catalytic converters cannot be installed after June 1, 2018 on any vehicle.
Contact: Peter Carleton 207- 242-6103