Meet some of Maine's Game Wardens
There isn't one path to becoming a Maine Game Warden. Some wardens became interested in the career as children when they met a Maine Game Warden for the first time, others came across the career choice as they picked up more and more outdoor hobbies.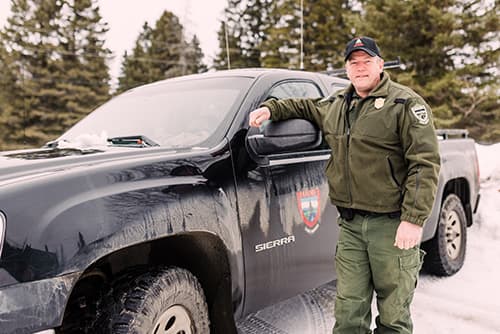 Scott Stevens
Game Warden Scott Stevens grew up in Dover, New Hampshire, but spent his summers at his family's camp on Sebec Lake. One summer day when Scott was fishing with his father, a Maine Game Warden checked their fishing licenses and chatted with them briefly. Scott immediately became captivated by the idea of working as a game warden when he grew up. After high school, Scott attended the University of Maine at Orono and pursed a bachelor's degree in Business Administration. While he was there, he met Warden Chuck Allen, who was working on his MBA while preparing to retire from the Maine Warden Service. Scott went on a few ride alongs with Chuck, and that experience helped him solidify his plan to eventually be a game warden. But, for Scott, achieving that dream didn't come for many years.
After college, the Warden Service didn't hire Scott when he applied the first time. Instead, the Maine State Police did. Scott worked as a Maine State Trooper for almost 15 years before being hired by the Warden Service in 2010. After many years working as a Trooper, he was encouraged to apply again for the Warden Service by Warden Reggie Hammond, who at the time patrolled the Rangeley area.
Scott currently patrols the Eustis area. Although the vast district keeps Scott busy, he is in love with the wildness of it, its natural beauty, and the historical tradition of enjoying the resources that it offers. For Scott, the best thing about his job is that the work changes with the seasons.
Outside of work, Scott enjoys spending his time enjoying hunting, fishing and outdoor recreation. His greatest joy has been passing along his passion for outdoor sports to his son and daughter.
Scott's hopes for the future of our outdoor resources is that careful attention is paid to the unique populations of fish and wildlife that make Maine so special: our native brook trout and salmon fisheries, our moose, and our strong black bear populations. Additionally, his hope is that the work he does now helps ensures those resources remain forever.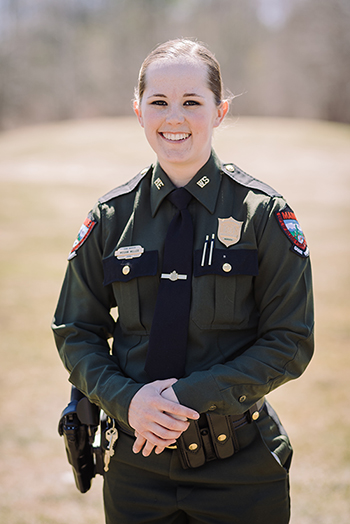 Megan Orchard
Megan's drive to become a game warden started during her junior year of high school when she was enrolled in a technical center program that focused on outdoor skills and leadership. The program introduced her to several outdoor career paths, including becoming a game warden. Megan was brought up on a horse farm and did not spend much time hunting or fishing, so she knew she had a lot to learn if she wanted to pursue this career path. She quickly immersed herself in as much hunting and fishing as she could.
After high school she became a whitewater rafting guide and attended Unity College where she studied conservation law enforcement. While at Unity College her passion to become a game warden grew like wildfire. She knew she wanted to advocate for the fish and wildlife and help keep the public safe while enjoying the wonderful resources of Maine. After graduation she was hired by the Maine Warden Service and began her journey as a game warden.
Megan loves being a game warden because the job changes with the seasons. She appreciates being outside almost every day and experiencing the great joys of the Maine wilderness. Megan patrols the Mars Hill area in central Aroostook County.
Outside of work, Megan enjoys spending time with family and close friends and taking her dog Ashland for walks. She also loves participating in seasonal activities, including snowmobiling, ATVing, and hunting birds, deer, and bear in the fall. Megan is patiently waiting to be drawn for a moose permit!
Megan hopes the Maine Warden Service continues to grow and encourage the public to positively enjoy the Maine outdoors.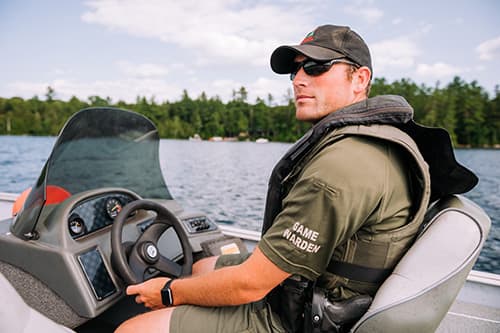 Kris MacCabe
Growing up in Maine, Game Warden Kris MacCabe always had a love for the outdoors whether he was hunting, fishing, or out on recreational vehicles. His enthusiasm for the outdoors inspired him to want to help protect Maine's resources for future generations.
Although a college degree is not required, Kris attended the University of Maine where he received a bachelor's degree in wildlife ecology. While in college he worked for the State of Maine Department of Marine Resources for three summers on the stock enhancement of anadromous fish in the Kennebec River. After graduating college, he worked for the USDA Wildlife Services on several different projects including avian bird flu and nuisance wildlife control. He then served as a volunteer for the MDIFW's Canada Lynx study for three months while going through the Maine Warden Service hiring process.
Kris patrols the Farmington area. His favorite part of the job is the diversity. One day he could be working on a boat, and then riding an ATV or climbing some of the most secluded hiking trails checking small remote trout ponds the next. He believes every day is an adventure when you are a Game Warden and couldn't ask for more.
For those interested in becoming a Maine Game Warden, Kris recommends becoming a well-rounded individual. A Swiss Army Knife is the tool of choice for most because it allows for so many options. To stand out in the hiring process, you need to be the Swiss Army Knife that has many tools to offer. He hopes Game Wardens in the future are just as determined to catch the intentional violator protecting the abundant wildlife we are so fortunate to have.
When Kris is not working, he enjoys hunting, fishing, looking for antlers, and skiing.