Pheasant Hunting Program
Fall 2018
Maine Dept. of Inland Fisheries & Wildlife
Pheasant Program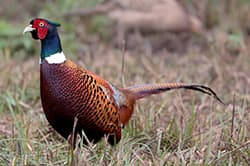 Thanks to the continued support of pheasant hunters from Maine and elsewhere, MDIFW, in cooperation with members of several dedicated Fish and Game Clubs, will stock about 2300 pheasants at 20 sites in York and Cumberland Counties. This program would not exist without the many generous landowners that agree to provide release sites and share their property with pheasant hunters every fall. We do lose sites as land is sold or developed, but outreach to new landowners sometimes leads to new release sites. This year's pheasant season runs from October 1 – December 31. There is a daily bag limit of 2 birds, either sex.


Pheasants are not native to the United States but have been successfully introduced in several states and have thrived in many environments such as Iowa, Illinois, Nebraska, and the Dakotas as well as others. This bird was first stocked in Maine by MDIFW in 1930. Pheasants have not established a breeding population in Maine due to several limiting factors, most notably, predation, occasional harsh winters and a scarcity of standing grain crops for winter forage. It is likely that some stocked birds overwinter at several sites and reproduction in the wild has occasionally been documented.

Pheasants are a particularly good game bird to hunt with dogs because despite the fact they prefer to run from predators including hunters, they will at times hold tight. When they eventually explode from heavy cover with their unique cackle and a thunderous wing beat they can startle unprepared hunters and dogs. Many a bird has escaped without a shot being fired while the hunter recovers his or her composure. They are also a good bird to start young hunters on because they will eventually hold and can be a larger and more predictable target for new shooters than the fast and erratic flying woodcock or partridge.

Hunters must purchase a pheasant permit in addition to their regular hunting license and are permitted two birds a day, of either sex. The permits will cost $19 again this year but a rise in program costs and a desire to improve hunt quality through additional stocking may dictate a rise in the near future. The permit is available on-line through our MOSES system or from the normal license vendors. With prices at local shooting preserves exceeding $30 per pheasant released (not necessarily harvested!) the pheasant permit is considered a very good value for the hunter. The pheasant program is funded through proceeds from the sale of the pheasant stamp. Hunters can help promote the pheasant hunting in Maine by talking up the program with their friends and encouraging them to buy a permit. Participation and support from the partnering Fish & Game Clubs has been vital since the program's inception. Special thanks to members of Windham/Gorham Rod and Gun Club, Kezar Falls Rod and Gun Club, South Berwick Rod and Gun Club, York Fish and Game Club and Falmouth Fish and Game Club.

This year, three stocking events will take place on or about the following days; Saturday, September 29, Sunday, October 7 and Sunday, October 21. See release sites below.

Landowner permission has been provided to pheasant hunters by those who own these properties. Most sites will receive about 40 birds at each stocking. Those sites in the Berwicks and Wells will be stocked on Friday's throughout the season by members of South Berwick Rod and Gun Club. These sites will receive fewer birds per stocking, but they will be stocked more frequently. Look for the yellow "pheasant release site" signs to identify the site and as part of our efforts to show respect for the landowners, observe the green "no vehicles beyond this point" signs.

Dog trainers are discouraged from training their dogs at the release sites after they are stocked to avoid scattering the birds off the sites. Have a good, safe season and thanks for your continued support of this program.

Scott Lindsay
Regional Wildlife Biologist
MDIFW
358 Shaker Rd.
Gray, ME 04039
Phone: 207-657-5745
Email: scott.lindsay@maine.gov
2018 Release Sites