Moose Hunting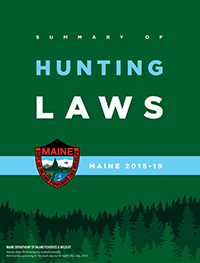 On this page:
Moose Hunting Permit
Maine's moose hunt is a "permit only" hunt. 2,500 permits were issued for the 2018 moose hunt. Each permittee may select a subpermittee to hunt with them. Applications are available by January 31. A person may not hunt moose with an apprentice hunter license. The bag limit is one moose per year, by either permittee or subpermittee. A person 10 years or age or older on the opening day of the moose hunt is eligible to apply for a moose hunting permit in that calendar year. A person under the age of 10 on the opening day of the moose hunting season may apply to earn a point in the lottery system, but cannot receive a permit.
Permits for 65 years old and older: A resident 65 years of age or older with 30 points or more in the moose lottery system who applies for a moose permit is guaranteed a permit.
Permits for sporting camp owners: Beginning in 2019, the Commissioner may allocate up to 2% of the moose hunting permits for a special chance lottery that is separate from the regular moose permit lottery, to hunting outfitters who meet the specific requirements defined in the law. If a qualified applicant is drawn in the lottery, the cost to purchase the permit is $1,500.
2019 Moose Permit Hunt Seasons
Wildlife Management District (WMD)
Dates
WMD's 1 through 6, 10, 11, 18, 19, 27 and 28
September 23 - September 28, 2019
WMD's 1 through 14, 17 through 19, 27, and 28
October 14 - October 19, 2019
WMD's 1 through 6
October 28- November 2, 2019
WMD's 15, 16
Maine Resident Permit Holders Only
November 2, 2019
WMD's 15, 16
November 4 - November 30, 2019

All dates are inclusive except that hunting is prohibited on Sunday.

See Laws Pertaining to Hunting Equipment for information on the use of crossbows.