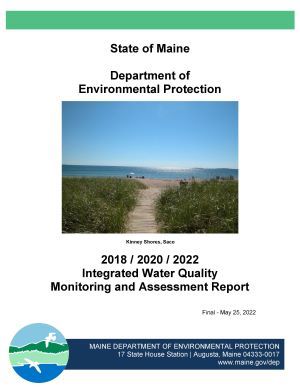 Integrated Water Quality Monitoring and Assessment Reports
The Integrated Water Quality Monitoring and Assessment Report or "Integrated Report" (IR) summarizes water quality data collected by the DEP as well as numerous other state, federal and tribal government agencies, volunteer water monitoring organizations, and other sources. The Integrated Report is also known as the 305(b) report and 303(d) list because it is required by Sections 305(b) and 303(d) of the Clean Water Act.
The Clean Water Act requires states to submit an Integrated Report to EPA every even-numbered year. Monitoring information is analyzed by the DEP to assess the ability of Maine 's water resources to meet uses such as drinking water, aquatic life support, fishing or recreation as established by Maine's Water Classification laws.
The 303(d) list of impaired waters identifies the waters not meeting one or more of their designated uses and is included in Appendices in the Integrated Report. The Integrated Report also provides detailed atlas information on miles and acreage of aquatic resources in Maine and information on groundwater resources, however, an assessment of specific use support is not provided for those waters.
Each even-year cycle MDEP first posts a draft Integrated Report for public comment. The final version with responses to comments is posted below.
Contact
Email: IRComments.DEP@maine.gov
Susanne Meidel, 207-441-3612
Maine Department of Environmental Protection
State House Station #17
Augusta, ME04333

New - Data Request for Maine's 2024 Integrated Report
The Maine Department of Environmental Protection is now receiving data that have been compiled under an approved Quality Assurance Project Plan for inclusion in the 2024 Integrated Report. On March 16, 2023, a letter (pdf) that provides background information for this invitation to submit data was sent to approximately 290 contacts from approximately 194 organizations. Submissions should be sent to the attention of Susanne Meidel (Susanne.K.Meidel@maine.gov) by June 30, 2023. Please do not hesitate to contact us if you have any questions about submissions for the 2024 Integrated Report.
2018/2020/2022 Integrated Water Quality Monitoring and Assessment Report
2016 Integrated Water Quality Monitoring and Assessment Report
2014 Integrated Water Quality Monitoring and Assessment Report
2012 Integrated Water Quality Monitoring and Assessment Report
2010 Integrated Water Quality Monitoring and Assessment Report
2008 Integrated Water Quality Monitoring and Assessment Report
2006 Integrated Water Quality Monitoring and Assessment Report