"Preserve Maine Waters" Stickers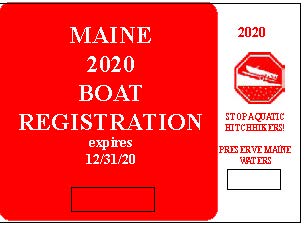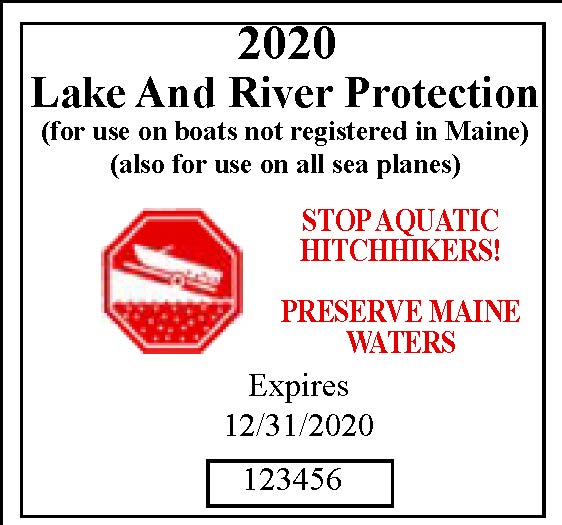 Sticker requirement
The annual sticker for owners of Maine-registered watercraft is automatically combined with the watercraft registration fee. The sticker, which reads Stop Aquatic Hitchhikers -- Preserve Maine Waters and is physically attached to the Maine watercraft registration, has been required since 2002 for all motorized watercraft on inland waters.
Owners of non-Maine registered boats are required to purchase and affix a separate nonresident sticker.
No sticker is required for operating a boat in tidal waters. Contact your regional Warden Service for the exact boundary between tidal and waters specific rivers. "Motorized watercraft" includes any boat with any type of motor, including canoes with electric motors and personal watercraft.
How much? Where to get it? Where to put it?
The129th Maine Legislature passed a bill (L.D. 235) that increases the sticker fees. The bill became law on June 11, 2019.

This new law increases the Maine registered boat fee from $10 to $15.The same law increases the fee for a boat registered outside of Maine from $20 to $35 in 2020 and to $45 in 2022.
The cost depends on the residency of the boat, not the boater! Out-of-state residents who register their boat in Maine pay the "Resident" sticker fee upon registration.
Stickers for Maine-registered boats must be purchased at municipal offices when buying watercraft registration. Non Maine-registered stickers may be purchased on-line through the IF&W on-line store (off-site) and at select IFW Agents. Call IFW at 287-8000 for a current list of sticker agents.
Place the sticker next to your registration sticker.
Commonly Asked Questions
You can obtain additional information from the DEP at 1-800-452-1942 or by calling the Department of Inland Fisheries and Wildlife (DIFW) at 287-8000. Staff contacts at DEP: John McPhedran, Karen Hahnel, and Denise Blanchette.
What are "Invasive Species?"

Invasive species are plants, animals and even microbes that are introduced from other regions and aggressively out-compete native species.

How are Invasive Species spread?

Invasive Species are usually spread as a result of peoples' activities. Examples include carp from illegal fish stocking, Eurasian milfoil from boat and gear transport, and zebra mussels from engine cooling water and live wells.

What harm do these critters do?

It varies with each species. For example, invasive aquatic plants can grow densely, crowd out native plants, reduce fish movement, stunt growth, shade out the bottom, reduce the number of snails and other useful animals, and change water chemistry in dense plant beds.

What's at stake?

Every year in the United States , government agencies and private citizens spend over $100 million to combat invasive aquatic plants. Closer to home, Vermont has spent over $6 million since 1980 to control these plants, and this year expects over $700,000 in requests from municipalities for help in dealing with the problem. In addition, invasive species cost billions of dollars in lost recreation and property values, and ruin habitat for native species.

Does Maine have a lot of invasive species?

Right now, Maine has at least 45 invasive species ranging from green crab in ocean waters to white carp in a number of rivers. There are literally scores of other invasive species that have spread into other New England States in the last few decades. Maine has documented 25 water bodies with invasive variable milfoil, and three lakes that each contain one of the following invasive species: Eurasian milfoil, Hydrilla and Curly-leaf Pondweed.

Aren't all plants good for fish like bass?

Plant life in lakes and streams is essential to good fisheries. In moderate densities, aquatic plants provide just the right blend of cover and edge for successful fish growth and places to produce forage for smaller fish. The very dense growths of plants often seen with invasive species like milfoil and water chestnut have the opposite effect.

What is Maine doing about this problem?

In 2000 Maine launched an effort to prevent the spread of invasive species, starting with aquatic plants, the most obvious problem. This includes educating people how to avoid spreading plants, how to watch out for them, and what to do if you find them. The effort also includes thousands of voluntary boat inspections by wardens and volunteers, information given to incoming motorists, and projects to eradicate new infestations where possible. We are also cooperating with other states in our region along with federal agencies.

Why bother to do all this if the plants are going to get here anyway?

We know from other states' experiences that we can slow down the spread and even prevent introductions in at least some instances. Because less than 1 percent of Maine 's 6,000 lakes and ponds have been documented to contain an invasive aquatic plant species, prevention is the most realistic and practical option available for protecting Maine inland water bodies.

When is a sticker required?

A new Lake and River Protection Sticker must be displayed EVERY year. Boaters with Maine registrations will buy one sticker, with the registration and Lake and Rive Protection stickers side-by-side, and pay one fee. If you are operating a non-Maine registered boat on Maine inland waters, you will need to purchase the Nonresident sticker and display it within 3 inches of your home state's registration. This sticker requirement is for all motorized watercraft operating on inland waters and applies to both motorboats registered in Maine and motorboats from other states operating in Maine.

No sticker is required for watercraft on tidal waters or for canoes and other boats not required to be registered. Contact your regional warden service headquarters for the exact boundary between tidal and inland waters on specific rivers.

How much, where do I get it, & where EXACTLY does my money go?

The Maine Resident sticker costs $15 and is included with in-state watercraft registration. The Nonresident sticker costs $35 in 2020 and will increase to $45 in 2022. The cost depends on the residency of the boat, not the boater! Out-of-state residents who register their boat in Maine pay the "Resident" sticker fee when registering their boat.

Boats used in tidal water do not require a sticker. Owners of Maine-registered watercraft used only in tidal waters may declare such use to the sticker sales agent and the $15 fee will be deducted from total watercraft registration fee. Conversely, owners of Maine-registered tidal watercraft to be used in inland waters must purchase and display a $15 upgrade sticker. The $15 upgrade, the cost of the Lake and River Protection sticker, consists of a new combined watercraft registration and Lake and River Protection sticker. The upgrade is available at the town office where you register your boat.

Stickers for non Maine-registered boats are available for sale wherever boats are registered or fishing licenses are sold. These stickers may also be purchased on-line through the IF&W on-line store. (off-site)

It's important to note that 100 per cent of these funds go to the prevention and control of invasive plants and fish. Not one cent of this revenue goes to any other government program!