Oil Conveyance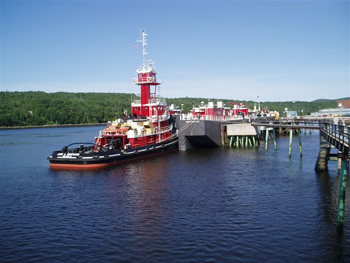 Introduction
"Oil conveyance" refers to the transportation or transfer of crude oil and refined petroleum products or their by-products into Maine or from terminal to terminal. This page provides information concerning the fees assessed on petroleum transfers, not including waste oil.
The Maine Ground & Surface Waters Clean-up and Response Fund assesses a fee on the transfer or transport of crude or petroleum products from vessel to terminal, the import of petroleum products into Maine by road or rail, and the transfer of product from terminal to vessel.
Contacts
For information about licensing of terminals or registration of companies or railroads for the transportation of petroleum products into Maine, please call Jamie Hoover at 207-287-6113 or 287-7688.
For information about reports for petroleum products transported into Maine, fees, products, codes, or refund requests (for petroleum products exported from Maine) call Melissa Morrill at 207-287-6102 or 287-7688.
Laws
§545-B. Registration of transportation of oil in inland areas
§551. Maine Ground and Surface Waters Clean-up and Response Fund
§569-A. Ground Water Oil Clean-up Fund (Repealed)
Rules
(Rule chapters from the Secretary of State, Bureau of Corporations, Elections & Commissions are in MS Word format)
Chapter 600 - Maine Oil Terminal Rules
Chapter 685 - Payment and Reimbursement of Oil Transfer Fees
90-564 Chapter 4: Oil Import Fees-Fund Insurance Review Board
Forms
Monthly Report Form of Transfers at Oil Terminal Facilities (MS Excel format)
Monthly Report Form of Transportation of Petroleum Products by Highway or Railroad (MS Excel format)
Instructions for Computation of Total Payment/Petroleum Reporting Codes (pdf format)
Registration Form for Road and Rail Transportation of Oil Hazardous Materials (pdf format)
Additional Information
Fee Table: Transportation of Petroleum Products (pdf format)
Department Fee Schedule (includes Oil) (pdf format)
Processing Times for New Applications (includes Oil) (pdf format)