Motor Vehicle Recycling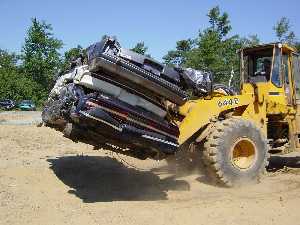 Introduction
Maine municipalities are required and authorized in accordance with state law to develop an ordinance pursuant to MRSA Title 30-A, section 3001 and Section 3755 to provide adequate controls to ensure that automobile graveyards, automobile recycling businesses, and junkyards do not have a deleterious impact on the municipality's health and safety, general welfare, and property values. Municipalities have the authority to not only permit and inspect these facilities but also to administer enforcement and penalties if the facility does not comply with the municipality's ordinance and State Law.
Maine law requires motor vehicle dismantling businesses to take certain actions to prevent contamination of Maine's land, water and air. This includes proper handling of waste such as mercury switches and mercury-added lamps, waste fluids, air-conditioning refrigerants, batteries and tires, and implementation of a stormwater control plan.
Maine's "Junkyards and Automobile Graveyards" law requires junkyards, automobile graveyards and auto recyclers to remove automotive fluids, refrigerants, batteries, mercury switches and mercury headlamps from non-operating vehicles within 180 days of receipt and before crushing or shredding of the vehicle. Yards that have more than 1320 gallons of oils, including gasoline, diesel, heating and waste oil, stored on site also must have a "Spill Prevention, Control and Countermeasures" (SPCC) plan.
Federal law requires businesses that buy auto scrap to have documentation from their suppliers that all fluids, mercury switches and lead-acid batteries have been removed from the vehicles. Also, all junkyards, automobile graveyards and auto recyclers must be licensed by their local municipality.
Contacts
Municipality Code Enforcement Officer (CEO)
Contact your local municipality
Maine Municipal Association
Mercury Switch Removal Program - Elena Bertocci 207-287-8556
Industrial stormwater program coordinator - Rhonda Poirier, 207-592-6233
Laws
Laws covering junkyards, automobile graveyards and automobile recycling businesses

Mercury switch removal requirement
Mercury Switch Removal and Recycling Program Information
Need A Replacement Bucket? Call 800-495-6059 to leave a message with your business name and shipping address saying you need a new bucket.
Go to End of Life Vehicle Solutions (off-site), to print the Year/Make/Model log for claiming the $4 per switch payment.
Forms
Certification of removal of fluids, batteries and mercury switches (pdf format)
Other Related Links
BMV Dealer Section - (207) 624-9000 ext. 52143 - (Off-Site)
Oil Spill Prevention, Control and Countermeasures
Safety Requirements for Above Ground Storage Tanks for Combustible Liquids (Off-Site)