HazMat Team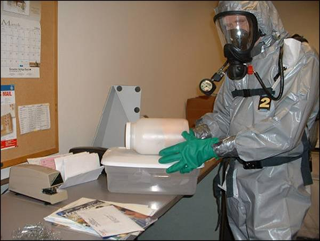 The Department of Environmental Protection (DEP) derives its authority and responsibility from the Maine Revised Statutes Annotated (M.R.S.A.) Title 38 for the removal of oil and hazardous materials discharges. Specifically, 38 M.R.S.A. Section 541 designates the DEP as the lead agency for the assessment and removal of petroleum discharges. 38 M.R.S.A. Section 1318-B places the DEP, in cooperation with the appropriate public safety agency, in charge of the assessment and removal of discharges of hazardous matter.
As a result of this authority and responsibility, DEP's Response Services employs a total of 27 individuals. Of these, 24 staff are technician level oil and hazardous material responders; and many have additional specialized training in ground transportation or marine conveyances. Most responders are also trained to the technician level for weapons of mass destruction. In order to respond in a timely manner, the DEP has four regional offices located in the Southern Maine Region (SMRO) in Portland, Central Maine Region (CMRO) in Augusta, Eastern Maine Region (EMRO) in Bangor, and Northern Maine Region (NMRO) in Presque Isle. Co-located with each office is a warehouse for the storage of emergency response equipment.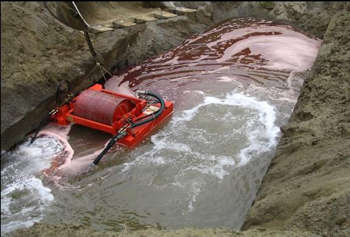 There are five responders on-call statewide on a twenty-four hour basis. Each responder is equipped with a fully stocked response vehicle and has access to regional response equipment at all times. Each response vehicle is equipped with the necessary equipment to respond to transportation emergencies including highway, rail, shipping, retail oil distribution, and residential oil and chemical emergencies. DEP responders regularly assist local fire departments, police departments, and emergency management agencies in dealing with oil and hazardous materials emergencies.
Response Services has a 5,000 barrel (210,000 gallon) oil recovery barge (Netepenawesit) equipped with surface oil skimming systems and 5,000 feet of oil containment boom. The barge is docked in Bucksport.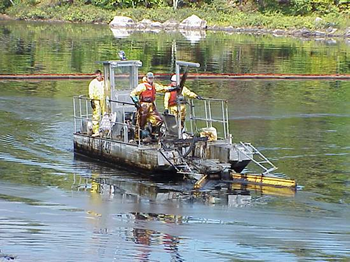 In addition to the skimmers located on the barges, Response Services also has oil skimming equipment of various sizes for applications involving oil discharged on water in marine, inland, and river environments. Some of the skimmers are stored individually for ease of transport in response vehicles; Response Services also has trailers for the mobilization of multiple skimmers.
The Response Services marine fleet has three primary response vessels located in Casco Bay, Rockland Harbor, and the Penobscot River. The division also maintains several small boats for inland and river responses.
Responders are trained regularly on the operation of marine vessels, as well as on the use of accompanying equipment such as skimming systems and various types of boom.