Safer Chemicals in Children's Products
Maine prioritizes chemicals into three tiers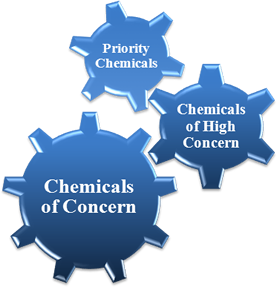 Three tiers of priority
Maine lists approximately 1400 compounds as chemicals of concern. From this list, chemicals of high concern are designated and upon further review, may be elevated to priority chemical status which results in regulatory action. Each tier of prioritization builds upon the criteria of the list before it.
Reporting Requirements
Manufacturers selling certain categories of children's products in Maine containing any of Maine's priority chemicals, in an amount greater than de minimis, and who have not already reported to the Department, must do so within 30 days of the product's availability in Maine. The Department has adopted reporting forms and rules for each priority chemical that must be reported to Maine DEP when intentionally added to certain children's products which are sold in the State of Maine. If you are unsure whether you are affected by these regulations please contact Kerri Malinowski at (207) 215-1894.
More Information