Mandatory Shoreland Zoning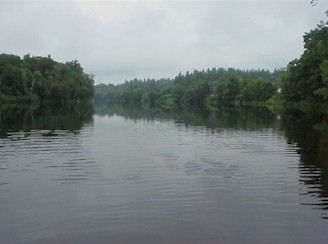 Contacts
Chapter 1000 (Guidelines)
Statutory sections
State-imposed ordinance chapters
Supplemental materials -- including the Shoreland Zoning News
The Mandatory Shoreland Zoning Act (MSZA) requires municipalities to adopt, administer, and enforce local ordinances that regulate land use activities in the shoreland zone. The shoreland zone is comprised of all land areas within 250 feet, horizontal distance, of the
normal high-water line of any great pond or river;
upland edge of a coastal wetland, including all areas affected by tidal action, and
upland edge of defined freshwater wetlands; and
all land areas within 75 feet, horizontal distance, of the normal high-water line of certain streams.
The purposes of the MSZA are as follows:
to prevent and control water pollution;
to protect fish spawning grounds, bird and wildlife habitat;
to protect buildings and lands from flooding and accelerated erosion;
to protect archeological and historic resources;
to protect commercial fishing and maritime industries;
to protect freshwater and coastal wetlands;
to control building sites, placement of structures and land uses;
to conserve shore cover, and visual as well as actual points of access to inland and coastal waters;
to conserve natural beauty and open space; and
to anticipate and respond to the impacts of development in shoreland areas.
Since, shoreland zoning regulations are administered and enforced by each municipality through municipal specific ordinances, the local code enforcement officer is typically the first point of contact for shoreland zoning questions. Shoreland Zoning Staff at the MDEP assist municipalities with shoreland zoning related questions and issues, as well as provide technical assistance and training on the shoreland zoning rules.
Contacts. For specific questions about a municipality's shoreland zoning ordinance, please contact the local code enforcement officer. For questions for MDEP's Shoreland Zoning Unit, please contact:
Statutory sections. Title 38, Chapter 3, §§ 435-449. Note: this link is to the text at the Office of Revisor of Statutes' site. Always check the disclaimer there -- the text may not include the most recent changes.
Chapter 1000 Guidelines for Municipal Shoreland Zoning Ordinances. These are standards that the MDEP uses as a guide when reviewing municipal ordinances. A municipalities need not adopt the guidelines word for word. Municipalities are encouraged to consider local planning documents and other special local considerations. A municipality may wish to adopt a more stringent ordinance, or an ordinance different from the "Guidelines". This is acceptable as long as the ordinance is equally or more effective in achieving the purposes of the Shoreland Zoning law.
State imposed ordinance chapters (off-site, Secretary of State, files are MS Word format)
| Chapter | Municipality |
| --- | --- |
| | Shoreland Zoning Ordinance for Municipality of Troy |
| | Shoreland Zoning Ordinance for Municipality of Whitefield |
| | Shoreland Zoning Ordinance for Municipality of Athens |
| | Shoreland Zoning Ordinance for Municipality of Bradford |
| | Shoreland Zoning Ordinance for Municipality of Charlotte |
| | Shoreland Zoning Ordinance for Municipality of Chester |
| | Shoreland Zoning Ordinance for Municipality of Columbia |
| | Shoreland Zoning Ordinance for Municipality of Edinburg |
| | Shoreland Zoning Ordinance for Municipality of Hanover |
| | Shoreland Zoning Ordinance for Municipality of Knox |
| | Shoreland Zoning Ordinance for Municipality of Limerick |
| | Shoreland Zoning Ordinance for Municipality of Moose River |
| | Shoreland Zoning Ordinance for Municipality of Springfield |
| | Shoreland Zoning Ordinance for Municipality of Steuben |
| | Shoreland Zoning Ordinance for Municipality of Talmadge |
| | Shoreland Zoning Ordinance for Municipality of Passadumkeag |
| | Shoreland Zoning Ordinance for Municipality of Waite |
| | Shoreland Zoning Ordinance for Municipality of Woodville |
| | Shoreland Zoning Ordinance for Municipality of Amity |
| | Shoreland Zoning Ordinance for Municipality of Bancroft |
| | Shoreland Zoning Ordinance for Municipality of Cooper |
| | Shoreland Zoning Ordinance for Municipality of Corinth |
| | Shoreland Zoning Ordinance for Municipality of Hersey |
| | Shoreland Zoning Ordinance for Municipality of Hiram |
| | Shoreland Zoning Ordinance for Municipality of Lagrange |
| | Shoreland Zoning Ordinance for Municipality of Ludlow |
| | Shoreland Zoning Ordinance for Municipality of Medford |
| | Shoreland Zoning Ordinance for Municipality of Merrill |
| | Shoreland Zoning Ordinance for Municipality of Orient |
| | Shoreland Zoning Ordinance for Municipality of Stacyville |
| | Shoreland Zoning Ordinance for Municipality of Vanceboro |
| | Shoreland Zoning Ordinance for Municipality of Wade |
| | Shoreland Zoning Ordinance for Municipality of Aurora |
| | Shoreland Zoning Ordinance for Municipality of Bowerbank |
| | Shoreland Zoning Ordinance for Municipality of Carthage |
| | Shoreland Zoning Ordinance for Municipality of Exeter |
| | Shoreland Zoning Ordinance for Municipality of Farmingdale |
| | Shoreland Zoning Ordinance for Municipality of Frankfort |
| | Shoreland Zoning Ordinance for Municipality of Guilford |
| | Shoreland Zoning Ordinance for Municipality of Milo |
| | Shoreland Zoning Ordinance for Municipality of North Haven |
| | Shoreland Zoning Ordinance for Municipality of Penobscot |
| | Shoreland Zoning Ordinance for Municipality of Plymouth |
| | Shoreland Zoning Ordinance for Municipality of Waldo |
| | Shoreland Zoning Ordinance for Municipality of Crystal |
| | Shoreland Zoning Ordinance for Municipality of Etna |
| | Shoreland Zoning Ordinance for Municipality of Isle Au Haut |
| | Shoreland Zoning Ordinance for Municipality of Stow |
| | Shoreland Zoning Ordinance for Municipality of Swanville |
| | Shoreland Zoning Ordinance for Municipality of Columbia Falls |
| | Shoreland Zoning Ordinance for Municipality of Danforth |
| | Shoreland Zoning Ordinance for Municipality of Wellington |
| | Shoreland Zoning Ordinance for Municipality of Lubec |