Live Fire Instruction and Training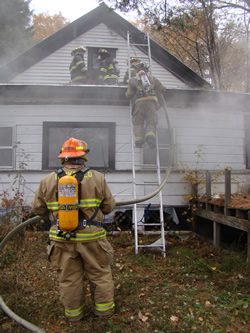 The Maine Department of Environmental Protection allows municipal, volunteer, and industrial fire departments to conduct live fire training on acquired structures for research or bona fide instruction and training. Live fire training must take place under the direct control and supervision of a qualified instructor who has met the requirements of an Instructor II in accordance with NFPA 1041. This may include the local chief, his or her designee, or an individual qualified as an instructor and designated by the authority having jurisdiction to be in charge of the live fire training evolution. A written objective for the instruction and training is required. The qualified instructor or sponsoring fire department must ensure that this requirement is met.
The intentional burning of a structure or previously demolished structure for disposal purposes is prohibited.
The human health and environmental concerns from live fire instruction and training activities include potential releases of toxic emissions to the air, impacts to surface and groundwater from combustion of waste material, and the presence of lead painted and asbestos-containing material.
The DEP strongly recommends that prior to the planned event, outreach is conducted to inform neighbors and nearby properties that could potentially be impacted by the live fire instruction and training activity. Sites in rural areas are preferred.
Special considerations for structures located in proximity to waterbodies or areas that drain to waterbodies.
Structures considered for live fire training must be located at least 50 feet from a waterbody. Appropriate erosion control measures, such as silt fencing or erosion control mix berms, should be properly-installed at a safe distance from the house, down slope and along the perimeter, to minimize pollutants entering the waterbody. Erosion Control Training is available from DEP's Nonpoint Source Training Center (NPSTC). A list of current training opportunities can be found on the NPSTC Training Schedule. Fire suppressant foams are prohibited. These foams have a very high biochemical oxygen demand and could kill aquatic life.
Erosion Control Best Management Practices
Once the training activities are complete, the Fire Department must clean up materials that have been caught by the sediment barriers, as well as debris found between these barriers and the house, that could potentially be washed down by future wet weather events. It is important for the Fire Department to be very meticulous in its clean-up efforts because of the high value of the habitat that could be affected by pollutant runoff.
Guidance, Forms, and Instruction
Guidance
The Open Burning Fire Training Guidance provides an overview of the regulations that apply to open burning acquired structures for live fire instruction and training activities. This document describes the required structure preparation, considerations during the burn, testing of residual ash, and the proper disposal of ash and residues generated.
Open Burning Fire Training Guidance
Required Forms
Submittal of the Notification of Live Fire Instruction and Training Activities (fillable pdf form) alerts appropriate staff at the Maine DEP that a live fire instruction and training activity is planned. The Notification of Live Fire Instruction and Training Activities includes a checklist that will assist in ensuring compliance with environmental regulations. This form should be filled out completely and include a "Written Objective" for the fire training activities. Submit these documents to DEP and retain a copy for your records.
Submit the completed form to the Department at least 7 working days prior to the live fire instruction and training exercise. Submit electronically (preferred) by emailing to DEPFireTraining@maine.gov. (Make sure you have saved the completed form before attaching to your email.). Alternatively, completed forms may be mailed to the department. See form for details.
Asbestos Building Demolition Notification Form D
This form must be completed and submitted to the Department whether asbestos is identified or not. See form for details about submitting.

Additional Guidance
Are you thinking about Burning Construction and Demo Debris?
Contacts
For general questions and information, contact Tim Smith 207-550-7216
Related Programs
Bureau of Air Quality, Compliance Section
Solid Waste, Solid Materials Management Unit
Asbestos and Lead, Lead and Asbestos Unit
Hazardous Waste, Hazardous Waste Management Unit
Erosion Control, Nonpoint Source Training Center
Off-site Resources
Maine Forest Service
Maine Fire Service Institute
National Fire Protection Association