Green Business Certification
Certify your business as an Environmental Leader
Welcome to our green business certification program. Display the Environmental Leader logo to your customers and business partners to show that your business is certified by the state as being an "Environmental Leader".
The Environmental Leader program is a self-guided process offered by Maine DEP as part of its sustainability efforts that encourages lodging facilities, restaurants and grocers to implement selected initiatives from those offered in the department developed workbook to achieve points toward certification. Points can be earned for practices such as adopting and posting an environmental policy, serving local food, using non-toxic chemicals for landscaping, installing energy-efficient equipment, creating a company environmental task force and educating patrons about the facility's green initiatives.
Businesses submit their completed workbook to DEP for review and certification approval, and must increase their point total to be recertified after two years.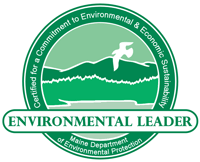 As businesses work through the process, DEP's Environmental Leader staff provide free technical assistance to help participants implement sustainable practices, save money and reduce their environmental impact, regardless of whether they end up obtaining certification.
Since it was launched in 2006, more than 150 businesses have been certified by the program and DEP estimates that lodging leaders alone have saved more than 19 million gallons of water through installing low flow water fixtures and/or implementing towel and linen re-use programs and prevented more than 15 million pounds of greenhouse gas emissions through lighting with CFLs.
Please see individual certification sectors for green lodging, green restaurants and future green business sectors.