Emissions Testing
Stack Tests and Relative Accuracy Test Audits (RATA)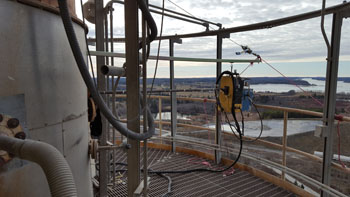 Licensed facilities may be required to periodically test emissions (also known as Stack Testing or Emissions Testing) from their equipment. Additionally, facilities with continuous emissions monitoring equipment must perform Relative Accuracy Test Audits (RATA) to demonstrate the emissions monitoring equipment is operating correctly. Below is information on submitting the required test protocols and final reports to the Department.
Both protocols and final reports may be submitted electronically by emailing to StackTestDEP@maine.gov.
Please note: Our system has a limit on incoming email of 20 MB. If your file exceeds this limit, the file must be split and sent in two or more separate emails. Otherwise, it won't be delivered to the intended recipient.
Alternatively, protocols and reports may also be submitted on CD or in print (hard copy) by mailing to:
Maine Department of Environmental Protection
Bureau of Air Quality
Attn: Stack Testing Unit
17 State House Station
Augusta, ME 04333-0017
For Fed-Ex or UPS, the physical address is 25 Tyson Drive.
For more information, contact Lisa Higgins (207) 694-9550