Quarantine Information
There are four State forestry related quarantines in effect in Maine and an additional federally regulated quarantine pest. They are:
State
Federal
The following is a summary of the rules for each quarantine. Contact us with questions about the quarantines and requests for compliance agreements. Contact the Horticulture Program in the Maine Department of Agriculture, Conservation and Forestry, Animal and Plant Health Division for information about regulations on plant material other than forest products (such as wreaths, nursery stock, Christmas trees and seeds).
Federal quarantine laws, such as those prohibiting movement of material from Asian longhorned beetle and Spongy Moth quarantine areas regulate movement across state lines. These are administered by the United States Department of Agriculture, Animal and Plant Health Inspection Service, Plant Protection and Quarantine (USDA APHIS PPQ). Forestry quarantines in Canada are overseen by the Canadian Food Inspection Agency (CFIA).
Information on Maine's Emergency Order Restricting Transportation of Firewood Into the State of Maine
---
Information about Emerald Ash Borer

The European Larch Canker Federal Quarantine is listed under 7 CFR Part 301.91, United States Department of Agriculture, Animal & Plant Health Inspection Service, Plant Protection and Quarantine as printed in the Federal Register (Rule can be found here, under "Text of Federal Regulatory Rule". The State European Larch Canker Quarantine is authorized under 7 MRSA, Chapter 409, Section 2301-2303 of the Laws of the State of Maine. The rule as it relates to forest products is summarized below (complete text (PDF)).
This quarantines all parts of larch (Larix spp.) including logs, pulpwood, branches, twigs, etc., as regulated articles.
Also any other product, article, or means of conveyance whatsoever, when it has been determined by an inspector that it presents a risk of spread of the disease.
Designates parts of Maine as the quarantined area from which movement is restricted (map (PDF)); Regional Map (PDF).
This quarantine is managed by the USDA-APHIS, PPQ in Hermon, Maine, phone: (207) 848-0001, and the Forest Health & Monitoring Division of the Maine Forest Service, phone: (207) 287-2431 or 287-2791.
SUMMARY: This chapter establishes a quarantine against the Hemlock Woolly Adelgid to prevent its artificial spread in the State, in order to protect Maine's forest, timber and wildlife resources from this destructive pest.
Section 1: HEMLOCK WOOLLY ADELGID QUARANTINE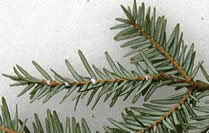 A quarantine is established against the following pest and possible carriers.
1. Pest. A quarantine is established against Hemlock Woolly Adelgid (Adelges tsugae Annand) and possible carriers.
2. Regulated articles: Plants and plant products of hemlock (Tsuga spp.) listed below:
Rooted plants (seedlings & nursery stock)
Hemlock branches and/or needles
Chips with top material(branches and/or needles), and
Uncomposted bark with top material (branches and/or needles).
3. Area Under Quarantine.
A. Parts of Maine (PDF)

B. In the eastern United States outside of Maine, counties included in the USDA Forest Service's (USDA-FS) distribution maps found on the USDA-FS website or on a list maintained by the Department.

C. In the western United States and Canada, the State of Alaska, the State of California, the State of Oregon, the State of Washington and the Provinces of British Columbia and Nova Scotia.
See full rules for more information (PDF)
Questions about Hemlock Forest Products? Contact Mike Parisio or (207) 287-7094 (summary)
Questions about Hemlock Nursery Stock or Seedlings? Contact Gary Fish at (207) 287-7545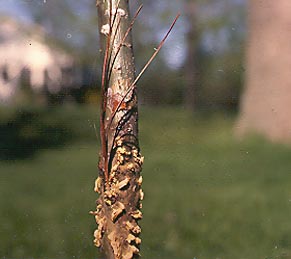 The White Pine Blister Rust Regulations and Quarantine are listed under Title 12 §8305 Shipment Prohibited.
The director may prohibit, prevent or regulate the entry into or movement within the State, from any part thereof to any other part, of any plants of the genus Ribes or other nursery or wildling plants, stock or parts of plants which may cause the introduction or spread of a dangerous forest insect or disease. The director may issue the necessary orders, permits and notices necessary to carry out this section which shall not be considered to require or constitute an adjudicatory proceeding under the Maine Administrative Procedure Act, Title 5, Chapter 375.

Regulation: White Pine Blister Rust, Quarantine on Currants and Gooseberry Bushes. (rule)
The sale, transportation, further planting or possession of plants of the genus Ribes (commonly) known as currant and gooseberry plants, including cultivated, wild, or ornamental sorts is prohibited in the following Counties in the State of Maine, to wit: York, Cumberland, Androscoggin, Kennebec, Sagadahoc, Lincoln, Knox, Waldo, Hancock, and parts of Oxford, Franklin, Somerset, Piscataquis, Penobscot, Aroostook, and Washington (map (PDF | 1.4 MB), list of towns (PDF | 547 KB)).

The planting or possession of European Black Currant, Ribes nigrum, or its varieties or hybrids anywhere within the boundaries of the State of Maine is prohibited.
This quarantine is administered by the Maine Forest Service, Forest Health and Monitoring, phone: (207) 287-2431 or 287-2791.
The state quarantine on Lymantria dispar was eliminated, however materials from Maine moved to areas outside the state are subject to the existing federal quarantines (US and Canada) on this insect.
Regulated articles include logs, wood chips and Christmas trees among others. Within the regulated area, regulated articles can move freely. An inspection and resulting phytosanitary certificate are required for movement of regulated articles to areas outside the regulated area. USDA APHIS, PPQ in Hermon Maine can help people seeking to move material from Maine to areas outside of the area regulated for gypsy moth, (207) 848-0003. US Federal quarantine regulations can be found at: https://www.aphis.usda.gov/aphis/ourfocus/planthealth/plant-pest-and-disease-programs/pests-and-diseases/gypsy-moth/ct_gypsy_moth; Canadian Federal Regulations are on-line at: http://www.inspection.gc.ca/plants/plant-pests-invasive-species/directives/forestry/d-98-09/eng/1323885774950/1323886065560