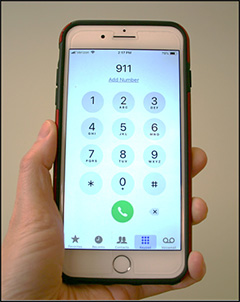 Welcome to the Maine Emergency Services Communication Bureau
The Emergency Services Communication Bureau is the state agency responsible for 9-1-1 in Maine. The Bureau manages a statewide Next Generation 9-1-1 system designed to keep pace with the way people communicate today. This advanced system includes voice and text, along with the foundation for the delivery of video and enhanced data to the Public Safety Answering Point as industry standards are developed and tested.
Public safety officials continue to credit Maine's 9-1-1 system with saving lives and solving crimes. Only call 9-1-1 to save a life, report a fire or stop a crime.
Did you know...?
You should only text to 9-1-1 when a voice call is not possible.
Maine has 24 PSAPs (Public Safety Answering Points) in Maine to answer your 9-1-1 calls.
Repetitive calls to 9-1-1, when there is no emergency, is against the law.
If you notice inaccuracies with your address on GPS devices or online maps, you can report them via www.GPS.gov.
Street signs are the responsibility of the municipality.
Cellphones without an active call plan have the ability to dial 9-1-1. Avoid giving them to children as toys.
The Bureau provides training for all 9-1-1 dispatchers in the state.
Deaf or Hard of Hearing callers can use either text or a TTY to reach 9-1-1.
9-1-1 call-takers report address problems to the Bureau for correction.
Maine was among the first in the nation to deploy statewide Next Generation 9-1-1.