BPC Online Portal
The BPC Online Portal provides access to all Pesticide Applicator information, such as license expiration dates, exam scores, credits earned. The site can also be used to apply for exams and licenses and to renew licenses. Go here to get started.
LOGIN to BPC Online Portal
Next Board Meeting: October 5, 2018
Obsolete Pesticide Collection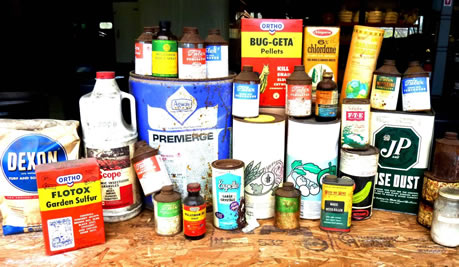 The Maine Board of Pesticides Control conducts a program to collect and properly dispose of banned and unusable pesticides from homeowners and farms. Preregistration is required and collections are held at four sites across the state. Next collection will be in October 2018, one day each in Presque Isle, Bangor, Augusta, and Portland. Registration by October 5th is required, no drop-ins will be accepted. Find out how to register!
WHAT'S NEW
Worker Protection Training videos for Greenhouse Workers and Handlers created by Pennsylvania Office of Rural Health at Penn State
2018 Non-Agricultural Pesticide Notification Registry [PDF or XLS spreadsheet]
Browntail Moth Information
The caterpillars of the browntail moth release tiny hairs that cause itchy rashes and sometimes respiratory distress. In July and August the moths can be seen on structures. They have a wingspread of about 1 1/2 inches and are strongly attracted to light. Wings and midsection are pure white while the abdomen (rear part of the body) is brown with a conspicuous tuft of brown hairs at the tip. Fall is a good time to plan for next year—learn about removing nests during the winter.
Useful Information on our Website
LOGIN to BPC Online Portal
Search for Maine Registered Products
Licensing Brochure [PDF]
List of Licensed Companies Offering Mosquito and Tick Control (GotPests site)
2018 Non-Agricultural Pesticide Notification Registry [PDF or XLS spreadsheet]
links to useful sites
GotPests.org (ID and facts sheets for pests-Maine IPM Council)
University of Maine Cooperative Extension IPM for Maine Homeowners
National Pesticide Information Center
Contact Us
AUGUSTA: 207-287-2731
FAX: 207-287-5576
TTY Users: call Maine Relay 711
more
email: pesticides@maine.gov
The BPC offices are located on the 3rd floor of the Marquardt building at 32 Blossom Lane, Augusta

Board of Pesticides Control