Gold in Maine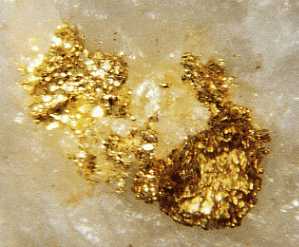 Gold occurs in several geologic environments in Maine: in bedrock, in sediments that were eroded from bedrock by glaciers, and in stream deposits derived from either of these sources. Veins of gold in bedrock are called "lode" deposits, and "placer" deposits are concentrations of gold that accumulated in unconsolidated sediments. Most of the gold presently found in Maine comes from placer deposits in stream beds.
GENERAL REGULATIONS
Currently updating regulatory information
---
LUPC REGULATIONS
Currently updating regulatory information
---
SOURCES OF GOLD INFORMATION
Information on gold localities and methods of prospecting may be found in the following books or obtained from other references in libraries and bookstores. There are no active gold mines in the state at the present time, but some old gold mines are listed in a two-volume series entitled "Maine Mines and Minerals", by Philip Morrill and William Hinckley, which may be available in Maine mineral shops or local libraries.
The Next Bend in the River (Gold Mining in Maine), by C. J. Stevens; John Wade - Publisher, P. O. Box 303, Phillips, ME 04966; 177 p. (1989).
Gold Fever - The Art of Panning and Sluicing, by L. DeLorenzo; Gem Guides Book Co., 315 Cloverleaf Dr., Suite F, Baldwin Park, CA 91706; 80 p. (1995).
Gold! Gold!, by J. F. Petralia; Sierra Outdoor Products Co., P. O. Box 2497, San Francisco, CA 94126-2497; 143 p. (1996).
Gold Panning is Easy, by R. Lagal; Ram Publishing Co., P. O. Box 38649, Dallas, TX 75238; 134 p. (1995).
Gold Mining in the 1990's, by D. McCracken; Keene Industries, 9330 Corbin Ave., Northridge, CA 91324; phone: 818-993-0411; 279 p. (1993).
Gold Prospectors Handbook, by J. Black; Gem Guides Book Co. (address given above); 176 p. (1996).
The Modern Goldseekers Manual, by T. Bryant; Bedrock Supply Ltd., 9435-63AVE, Edmonton, Alberta, Canada T6E 0G2; phone: 1-800-661-3988; 223 p. (1990)
---
GOLD PROSPECTING CLUB
Central Maine Gold Prospectors

Contact one of the following:


Phillip Moulton Phone: (207) 660-7563
Charles Curtis Phone: (207) 778-5364


Website: www.mainegoldprospectors.club
---
GOLD PANNING EQUIPMENT AND ADVICE
---
GOLD PANNING STREAMS
Some streams from which gold has been reported are listed below, and there are probably many others that are less well known.
| Stream | Township | County |
| --- | --- | --- |
| Swift River and its tributaries | Byron area | Oxford, Franklin |
| Sandy River | Madrid to New Sharon | Franklin |
| South Branch-Penobscot River | Sandy Bay; Bald Mtn; Prentiss | Somerset |
| Gold Brook | Bowman | Oxford |
| Gold Brook | Chain of Ponds; Kibby | Franklin |
| Gold Brook | Chase Stream | Somerset |
| Gold Brook | T5 R6; Appleton Township | Somerset |
| Nile Brook | Dallas; Rangeley | Franklin |
| Kibby Stream | Kibby | Franklin |
| St. Croix River | Baileyville | Washington |
Topographic maps covering these areas may be purchased from local sporting goods stores and bookstores or from the Maine Geological Survey, 93 State House Station, Augusta, Maine 04333. Telephone: (207) 287-2801.
---
Last updated on September 24, 2012