Stream Smart Crossings
Stream smart crossings are designed to provide enough capacity to pass sediment, debris, fish and high flows from extreme storm events without failure or damage to the structure. They are durable structures that meet or exceed state stream crossing requirements, that also connect aquatic habitat to encourage the population of Maine's fisheries. In short, they allow a stream to act like a stream. You can find more information on stream connectivity and some of the work that the Maine Forest Service is doing to address it in the video below:
Maine's many family woodland owners can contribute to the effort to make even small streams passable to fish and other aquatic organisms – by installing road and trail crossings that meet "stream smart" principles, or by restoring existing crossings that do not meet stream smart goals. Landowners have several resources, including Maine Forest Service, to help determine if they can improve stream habitat on their properties.
---
Stream Smart crossings are built with the 4 stream smart principles in mind, referred to as the "4 Ss." They are: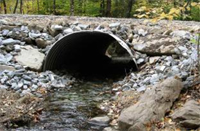 Principle #1 – Span the Stream Channel
Crossings that do not span the entire stream channel will "pinch" the stream, causing water flow to accelerate through the crossing. This can create a barrier to fish movement, as water may move faster than a fish can swim. In addition, when accelerated water flow exits a culvert that is too narrow, it will create a scour hole. This will cause the culvert to become perched above the streambed, which also limits fish passage. Crossings that are at least as wide as the stream channel allow natural flows to be maintained through the crossing, minimizing velocity problems. In most cases a crossing sized to be as wide as the stream channel will also accommodate at least a 50-year flood.
---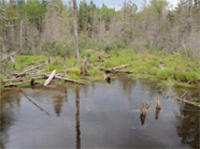 Principle #2 – Set the Crossing at the Correct Elevation
Stream crossings, including closed bottom culverts and footers of open bottom structures, should be set below the elevation of the ORIGINAL stream channel. This is particularly important to be aware of when replacing a stream crossing, since old crossings are often set at too high an elevation. A stream crossing that has not been set at the correct elevation limits fish passage and may pond water on the upstream side, which in time may compromise the road.
---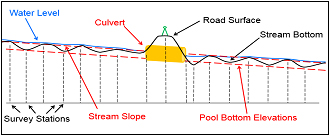 Principle #3 – Slope Matches the Stream
Crossings should be set at the same gradient as the natural stream channel. This allows the stream to maintain its natural velocity and minimizes problems such as scour holes below the crossing. It is important to survey stream bottom elevations upstream and downstream from a crossing to find the natural stream bottom elevation and correct slope.
---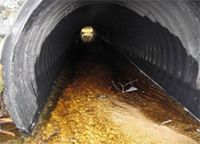 Principle #4 – Substrate in the Crossing
Open bottom crossings such as bridges and arch culverts are open to the natural stream bottom. Properly sized and embedded closed bottom culverts can have a stream bottom redevelop in the crossing as stream bed material accumulates. Material may need to be added to culverts, particularly on steeper streams.
---