Emissions from the Transportation Sector
Over half of Maine's carbon emissions come from the transportation sector. As a rural and geographically large state, Maine people often depend on personal vehicles to get around. Currently, Maine people have a high dependency on gasoline to power their vehicles, which contributes to climate change and sends money to out-of-state fossil fuel providers rather than investing in Maine's economy. The state is exploring cleaner fuel options and has a number of initiatives directed at electrifying aspects of Maine's transportation system.
Transportation Beneficial Electrification
In 2017, then-Attorney General Mills won $5.1 million for the state after taking legal action against Volkswagen (VW) and its affiliates Audi AG and Porsche AG for violating state environmental laws and emissions through their marketing and sales of light vehicles in Maine. The settlement specified that funds be used to reduce vehicle pollution, such as by installing public electric vehicle (EV) charging stations. Efficiency Maine Trust administers programs to expand electric vehicle adoption and the availability of electric vehicle charging infrastructure across Maine.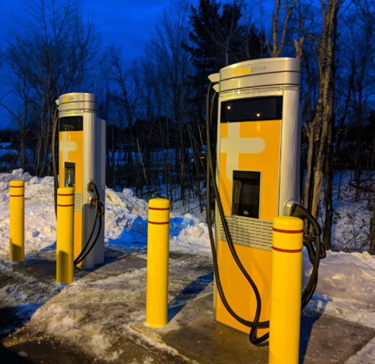 Electric Vehicle Charging Initiatives
Efficiency Maine Trust is working to expand electric vehicle charging network. Charging stations have been and are continuing to be installed along previously identified travel corridors.
Electric Vehicle Accelerator Rebate Program
Approximately half of that settlement fund is being used to provide financial incentive programs to help public agencies and organizations that serve the elderly, low-income Mainers, Mainers with special needs to purchase EVs. The remaining settlement funds were used to establish an electric vehicle rebate program for purchase or lease of EVs for Maine residents and businesses. Both of these programs are being administered by Efficiency Maine Trust (EMT).
Visit the Efficiency Maine website to learn more about both the EV Charging Initiatives & EV Rebate Program:
https://www.efficiencymaine.com/at-work/electric-vehicle-supply-equipment-initiative/.