Solar electricity is a clean and renewable resource that can provide a variety of benefits to the electrical grid. Solar installed behind-the-meter, such as on a homeowner's rooftop, lowers load on the distribution system and can offset the building's energy bill, while larger utility-scale solar farms provide clean power to the grid throughout the course of the day. Paired with energy storage, solar can continue to provide clean, renewable power even after the sun sets. Learn more about solar technologies from the U.S. Department of Energy's Solar Energy Technologies Office.
Solar photovoltaic (PV) panels can be installed in arrays ranging from small, residential rooftop installations that power a home to many acres of solar farm that can power entire towns – thousands of homes, businesses, schools, and other buildings.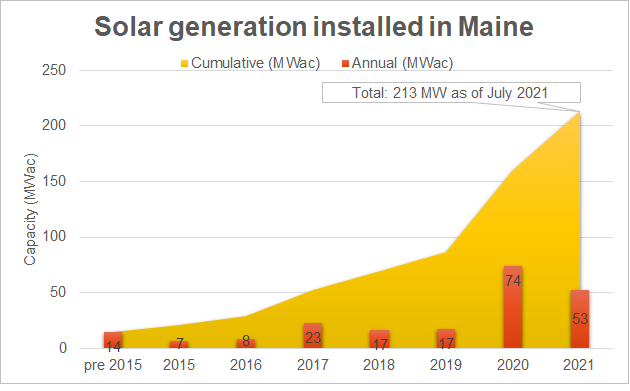 Distributed generation
Distributed Energy Resources (DERs) are small-scale generation resources, storage, and other physical and virtual grid assets that are dispersed across the electric grid. Distributed generation can provide a variety of benefits to both the entity where electricity is generated – residences, businesses, or other institutions – as well as to the overall electrical grid. Solar photovoltaic (PV) modules are the most commonly adopted generation DERs in Maine, although other generation sources including small-scale wind turbines, biomass systems, and hydroelectric are also included. Read more about solar and distributed energy resources from the U.S. Department of Energy Solar Energy Technologies Office.
---
State Policy
Maine has established in law a specific goal of "ensuring that solar electricity generation, along with electricity generation from other renewable energy technologies, meaningfully contributes to the generation capacity of the State…" (Maine Solar Energy Act, Title 35-A MRS § 3474).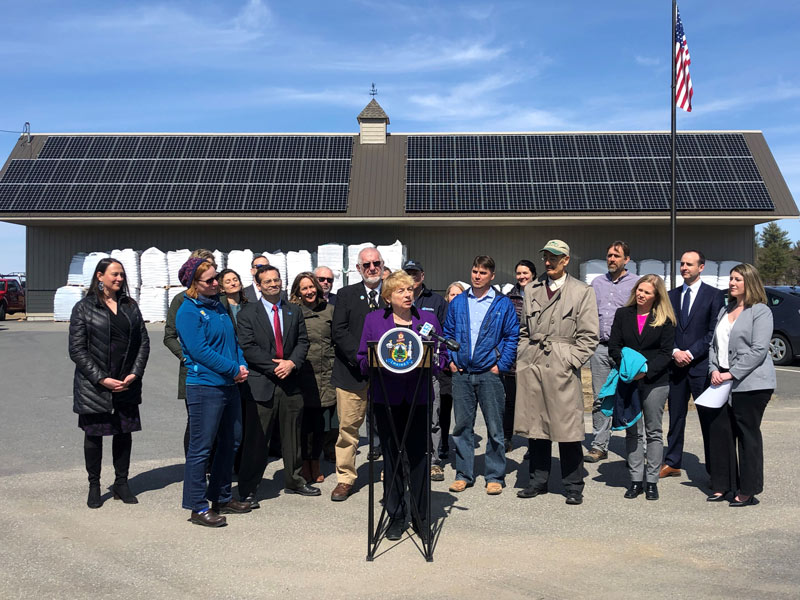 In 2019, Governor Mills signed legislation that took significant steps to support the deployment of solar and other DERs in Maine. These included: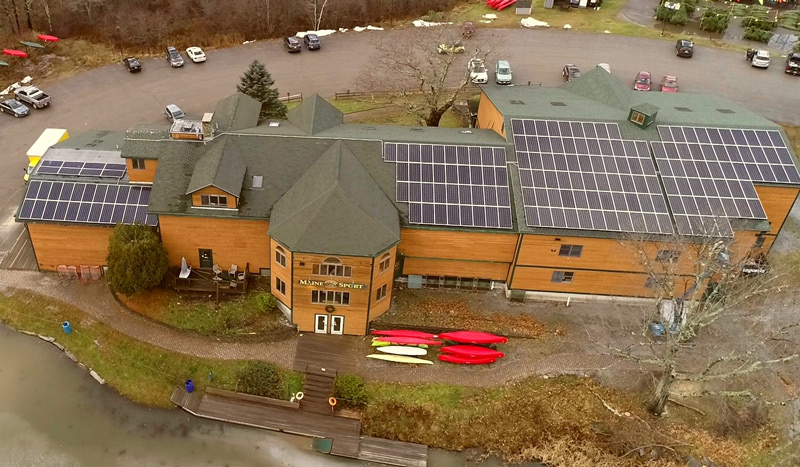 Public Law 2019, Chapter 478 (LD 1711 An Act To Promote Solar Energy Projects and Distributed Generation Resources in Maine) established three mechanisms to promote solar and other DERs: two net energy billing (NEB) programs, and distributed generation procurements. The act also made changes to Maine's overall NEB rules, including lifting the capacity cap on DERs eligible for NEB from 660 kW to 5 MW and removing any limit on the number of accounts or meters that can be associated with an eligible NEB project. Read more about the NEB and DG procurement programs below.
Other legislation that contributes to the deployment of solar:
Public Law 2019, Chapter 477 (LD 1494 An Act To Reform Maine's Renewable Portfolio Standard) increased the share of Maine's electricity that must come from renewable resources, known as a Renewable Portfolio Standard (RPS), to 80% by 2030 and set a goal of 100% by 2050. The first round of procurement conducted by the Maine PUC to meet this standard resulted in 17 renewable energy contracts, including 14 for solar projects (comprising 482.5 MW, 88% of the capacity acquired under the procurement).
Learn more about the RPS here, and see the Maine PUC's first procurement announcement for details.
On January 15, 2021 the Maine PUC opened the second round of procurement to meet the RPS.
Public Law 2019, Chapter 298 (LD 1181 An Act To Reduce Electricity Costs through Nonwires Alternatives) established the position of nonwires alternatives coordinator within the Office of the Public Advocate. The coordinator is responsible for reviewing certain proposed transmission and distribution projects and identifying whether alternatives, which could include deployment of solar or other DERs in some cases, could more cost-effectively meet the system need. See the Office of the Public Advocate's annual report for details.
Public Law 2019, Chapter 16 (LD 91 An Act To Eliminate Gross Metering) eliminated gross metering and reinstated net metering, or net energy billing. Gross metering required all electricity generated by rooftop PV systems be metered, even if it was being consumed on-site. In contrast, net metering is more supportive of rooftop solar and other distributed generation resources, providing a one-to-one credit for electricity generation sent to the grid without the need to meter generation consumed on-site.
---
Programs
If you are interested in participating in Maine's solar/DER programs, there are resources for customers and developers below.
Net Energy Billing
Net energy billing provides bill credits for excess generation from DERs that is not consumed on site, but instead provided to the grid. NEB is available for residential, commercial, and industrial customers. These programs can provide energy savings by lowering overall utility bills and offer the opportunity to support renewable energy generation at a local level.
NEB participants may enroll solar generation they own themselves, such as rooftop panels, or may choose to join a solar array shared with other customers and located elsewhere in their utility's service territory. This arrangement is commonly referred to as "community solar." Community solar developers are required to provide information about the costs and benefits of their project to prospective customers.
There are two programs for NEB:
kWh credit program
This program is available to all electric utility customers. Through the kWh credit program, NEB participants receive a credit for every kWh provided to the grid from their solar array. These credits can be used to offset future charges on a one-to-one basis during billing periods when the participant uses more energy than their solar array generates. Any unused credits expire after 12 months.
Tariff rate program
This program is available to non-residential electric utility customers. Through the tariff rate program, NEB participants receive dollar credits at a rate determined annually by the Maine Public Utilities Commission (PUC). These bill credits cannot cause a customer's utility bill to decrease below $0 in any given billing period, and any unused credits expire after 12 months.
Learn more on the Maine PUC "Net Energy Billing" webpage.
Maine's Office of the Public Advocate offers more information specifically on community solar projects.
Program evaluation
LD 1711 also required the Maine PUC to evaluate the effectiveness of NEB in achieving state policy goals and providing benefits to ratepayers when the total amount of generating capacity involved in NEB reaches 10% of the total system load for each utility, or three years after the passage of the act, whichever came first. In July 2020, the Maine PUC initiated an inquiry to acquire the information needed to conduct its evaluation, and on November 10, 2020 released its report.
Distributed Generation Procurement
The distributed generation procurement is for both 'shared projects,' also known as community projects, as well as for commercial and institutional projects. The PUC is tasked with administering this declining block program, which in total will incentivize at least 375 MW of new distributed generation in Maine.
In August 2020, the Maine PUC determined that the initial procurement for distributed generation was not competitive pursuant to the standards set forth in the governing statute, rule and procurement announcement. The Maine PUC is required to conduct a new initial competitive procurement within nine months of this announcement, and study and present the reasons the procurement was not competitive. On November 10, 2020, the Maine PUC issued its report on the initial procurement.
Learn more on the Maine PUC 'Distributed Generation Procurement' webpage.
---
Resources
The following resources are not GEO references, but may serve as useful tools for others seeking to gain additional information. 
For solar customers

For general information and frequently asked questions about solar energy, see resources for consumers provided by the U.S. Department of Energy Solar Energy Technologies Office.

I want to learn more about installing solar at my home or business

Residential solar installations are eligible for the federal renewable energy tax credit, which allows homeowners to deduct:

26% of the system cost if installed before January 1, 2023

22% of the system cost if installed before January 1, 2024

I want to learn more about community solar

Additional information for consumers considering community solar is provided by the Maine Office of the Public Advocate.

To find a list of developers registered as community solar providers, see this list maintained by the Maine PUC.

For more information, see this information provided by the ENERGY STAR program.

Customers of Maine's two investor-owned utilities can find additional information about DERs from their utility below:

I want to learn more about solar on my farm

The Maine Department of Agriculture, Conservation and Forestry has issued a fact sheet regarding dual-use or agrivoltaic solar installations.

 

For solar industry

Rules promulgated by the Maine PUC governing topics such as net energy billing, distributed generation procurement, and small generation interconnection procedures can be found here. The Commission also facilitates a monthly interconnection stakeholder call scheduled through docket 2020-00004.

Certain state agencies have issued guidance for solar development:

The Maine Department of Agriculture, Conservation, and Forestry has issued

technical guidance

for utility-scale solar installation and development on agricultural, forested, and natural lands.

The Maine Department of Inland Fisheries and Wildlife has issued solar project

guidance and recommendations

.

 

Information is available from Maine's two investor-owned utilities regarding interconnection and other pertinent topics: