Maine's Clean Energy Partnership (CEP) was establish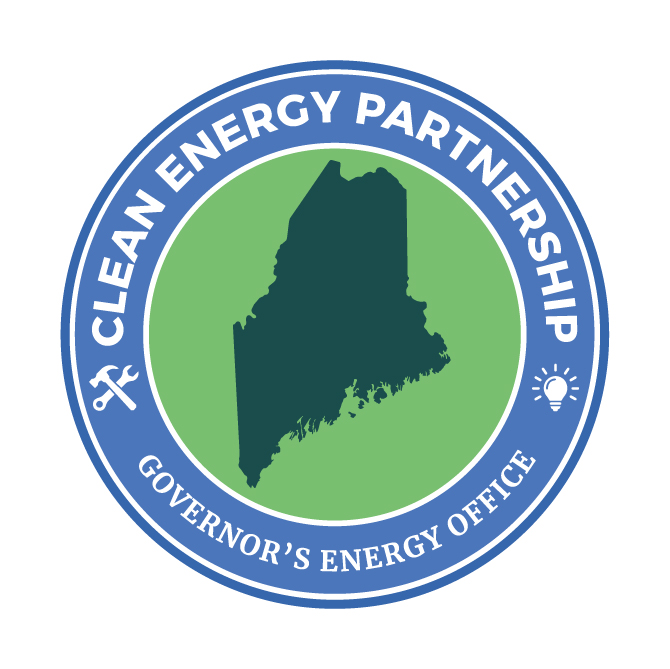 ed to advance Maine's clean energy, climate, economic development, and workforce goals – including Governor Janet Mills' goal of more than doubling Maine's clean energy and energy efficiency jobs by 2030.
Maine's clean energy sector has high growth potential and is poised to become a leader in the Northeast. This will be accomplished by preparing and expanding our clean energy workforce as well as supporting innovation of clean tech products and services. 
Supported by the Maine Jobs and Recovery Plan, the Clean Energy Partnership will convene leading experts to sustain attention and promote collaboration to address emerging needs, build new and expand existing supply chains, and support opportunities for Maine in these fast-growing fields. This public-private partnership will play a critical role in Maine's economic recovery and growth. 
To advise this work, the GEO has convened an Advisory Group which will meet regularly to inform the work of this initiative. Future meetings of the Advisory Group will be listed here on the GEO's public meeting calendar.
For more information about the Partnership, contact Clean Energy Partnership Program Manager Tagwongo Obomsawin at tagwongo.obomsawin@maine.gov. 
---
About the Clean Energy Partnership: 
Workforce: In December of 2020, Governor Mills welcomed Maine's climate action plan, Maine Won't Wait, and established a target of more than doubling Maine's clean energy and energy efficiency jobs to 30,000 by 2030. As of the end of 2021, there were roughly 14,500 clean energy workers across Maine and 142,000 workers employed in clean energy-related occupations – jobs that could be conducting clean energy work but are not necessarily doing so currently, such as electricians or HVAC mechanics.
Over the next decade, the state's environmental and clean energy statutory requirements and goals will create continued demand for clean energy jobs. With clean energy workers in the state indicating high satisfaction with their careers, Maine has a significant opportunity to bridge the workforce gap by expanding outreach and raising awareness of clean energy careers among key populations.
In December 2022, GEO awarded $2.5 million in grants to clean energy employers, educational institutions, industry associations, and nonprofit organizations to develop new curricula, provide technical training and experiential learning, deploy new job placement services, and other activities related to workforce development and training. The awarded projects will attract new workers to the clean energy and energy efficiency workforce, provide career training and upskilling opportunities to existing workers, increase diversity and representation in the clean energy workforce, and facilitate new and expanded clean energy apprenticeship, pre-apprenticeship, and internship models to facilitate entry into rewarding and high-paying jobs. 
Innovation: Announced on Earth Day 2021 by Governor Mills, the Maine Clean Energy Innovation Challenge was created to support companies with products or technologies that reduce carbon emissions, increase renewable energy, and grow Maine's clean energy economy.
A joint initiative of the Maine Technology Institute (MTI) and the GEO, innovative Maine companies in Biddeford and Wiscasset engaged in developing clean energy technology were each awarded $250,000 in 2021.
About Maine's Clean Energy Workforce
To define the clean energy workforce and hiring landscape and identify strategies and opportunities for growth, the GEO has commissioned a series of reports: the 2021 Maine Clean Energy Industry Report, the 2022 Maine Offshore Wind Talent Analysis, and 2022 Maine Clean Energy Workforce Analysis Report. These studies showed that, in addition to strong job growth, Maine boasts above-average concentrations of construction and installation jobs—occupations which are pivotal to the clean energy sector. Additionally, Maine is well-positioned to provide environmental and marine expertise and services both in and outside of the state, with three times the national average concentration of Zoologists and Wildlife Biologists, and more than eight times the national average concentration of Marine Engineers and Naval Architects.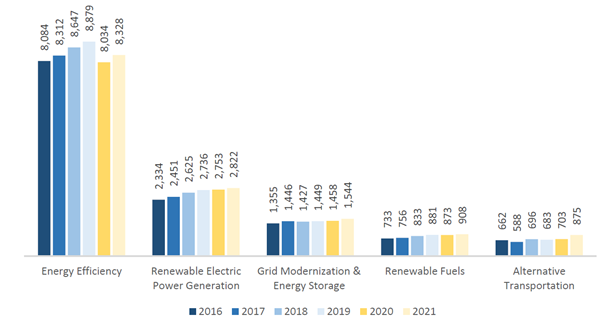 Clean Energy Employment in Maine, 2016-2021. Source: BW Research 2022 Clean Energy Workforce Analysis Report.
What are clean energy jobs? A clean energy job is any worker that is directly involved with the research, development, production, manufacture, distribution, sales, implementation, installation, or repair of components, goods, or services related to the following sectors of: clean energy generation, clean grid and storage, energy efficiency, clean fuels, and alternative transportation. These jobs also include supporting services such as consulting, finance, tax, and legal services related to energy.
---
Advisory Group
The Clean Energy Partnership is guided by an Advisory Group, which includes members from clean energy and energy efficiency companies, academic institutions, labor and workforce organizations, construction firms, technology experts, and representatives from state government. The Advisory Group members are appointed by the GEO and represent a range of key perspectives. This group will guide the development of workforce development and innovation efforts in clean energy and energy efficiency fields in Maine.
Co-chairs:
Dan Burgess, Governor's Energy Office
Jake Ward, University of Maine System
Members:
Hannah Pingree, Governor's Office of Policy Innovation and the Future
Charlotte Mace, Department of Economic and Community Development
Dillon Murray, Department of Labor
Matt Marks, Associated General Contractors of Maine
Matt Kearns, Longroad Energy
Fortunat Mueller, ReVision Energy
Richard Burbank, Maine Building Performance Association
Amanda Dwelley, E2 Tech Representative
Dan Belyea, Maine Community College System
Jason Shedlock, Maine State Building & Construction Trades Council
Francis Eanes, Maine Labor Climate Council
Nathan Post, Roux Institute
Andy Lubershane, Energy Impact Partners
Brian Whitney, Maine Technology Institute
Dwight Littlefield, Department of Education
How to get involved
All Advisory Group meetings will be noticed in advance on the State of Maine's Public Calendar. Relevant materials from each meeting will be posted below. To be placed on the interested parties list for meeting notifications and materials, email tagwongo.obomsawin@maine.gov. 
Meeting materials are posted below. View a list of all upcoming meetings. 
May 17, 2022: Advisory Group Meeting

October 5, 2022: Advisory Group Meeting

January 11, 2023: Advisory Group Meeting

March 8, 2023: Advisory Group Meeting

September 20, 2023: Advisory Group Meeting
Links and Resources
Clean Energy Partnership Program Fact Sheet

Maine Clean Energy Industry Report

Maine Clean Energy Workforce Analysis

Maine Offshore Wind Talent Analysis