Through the Maine Offshore Wind Initiative, the state will explore opportunities for thoughtful development of offshore wind energy in the Gulf of Maine and determine how to best position Maine to benefit from an industry expected to generate $1 trillion in global investment by 2040.
Launched in June 2019 by Governor Janet Mills, the Initiative aims to balance this industry development with our state's maritime heritage and existing marine uses to ensure sustainable preservation of the natural resources in the Gulf of Maine.
Offshore wind energy offers Maine potential for long-term job creation and economic development, supply chain and port infrastructure investments, and renewable power to help meet the state's ambitious clean energy and climate change goals.
Maine is also working closely with neighboring states and the federal government to evaluate regional opportunities in offshore wind energy in collaboration with maritime interests in the Gulf of Maine, particularly the fishing industry.  
Untapped Potential
Maine has a world class offshore wind resource off our coast and the Gulf of Maine represents one of our state's largest untapped clean energy resources. Proven around the world, offshore wind can lead to economic growth and provide clean energy that combats climate change and reduces our dependence on fossil fuels.
As a renewable energy source for Maine, offshore wind also has other advantages, according to the National Renewable Energy Lab:
The wind velocity in the Gulf of Maine is consistently stronger than the wind velocity onshore, which makes offshore wind a highly reliable and consistent energy source.
Wind velocity in the Gulf of Maine is strongest during the winter months, which aligns its maximum potential power generation with peak demand for energy in Maine.
Maine's coastline and ocean waters are already facing the impacts of climate change - sea-level rise, warming temperatures and ocean acidification - which are threatening the future of Maine's coastal communities and maritime industries.
Increasing renewable energy from offshore wind is part of Maine's strategy to reduce fossil fuel emissions, a leading cause of harmful greenhouse gases that cause climate change.
Economic Opportunity
Maine's 10-year Economic Development Strategy identifies offshore wind as a critical opportunity to grow the state's economy, and encourages the state to set forth a balanced agenda that maximizes economic benefits for Maine people while creating a culture of innovation that creates a foundation for future leadership in this growing industry.
With offshore wind projected to be a $70 billion industry, according to the University of Delaware's Special Initiative on Offshore Wind, in the U.S. over the next decade alone, and a growing pipeline of current active or proposed offshore wind developments along the East Coast, the timing for Maine to wisely develop this renewable energy industry as an economic driver to create sustaining, good-paying jobs in engineering, construction, manufacturing, and more is now.
While Maine is open to considering all potential offshore wind energy projects, the depth of our waters and our decade of innovation in floating offshore wind technology gives our state a natural position to creating a next-generation source of renewable energy with global market potential.
Unique public and private assets and infrastructure, such as our long tradition of ship building and world-class training at Maine higher education and training facilities will help fuel new opportunities for marine-related jobs.
Preserving Maine's Heritage
The Initiative will work to develop offshore wind in the Gulf of Maine through thoughtful, collaborative, data-driven strategies that harmonizes with Maine's heritage industries -- such as fishing and tourism – and the ocean environment.
Maine's coastal communities depend on a thriving fishing industry critical to our economy and our cultural heritage. Existing users must continue to have access to the Gulf of Maine even as we benefit from new opportunities created by emerging industries.
As such, we must be thoughtful in considering where any offshore wind projects could be located and work to minimize any impacts on current and historical uses. 
As innovation and technology allow us to better utilize the bountiful resources of the Gulf of Maine we must work together promoting these new opportunities while ensuring the sustainability for all.
Exploring options such as the utilization of the port of Searsport underscores how existing maritime assets in Maine could benefit from growth of offshore energy. 
Floating Offshore Wind Innovation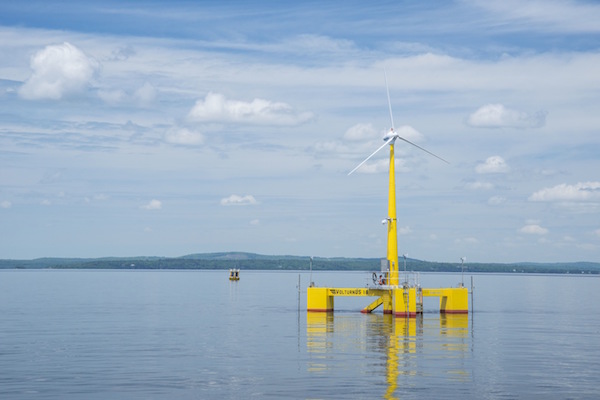 Maine has more than a decade of experience in the floating offshore wind innovation space, in particular through the work at the University of Maine. This collaboration, research and potential for other public-private investments in technology can make Maine a leader in the industry.
Advancing this work could make Maine a magnet for talented engineers, scientists, manufacturers and others to capitalize on our cutting-edge research and development.
In addition, an evaluation is now underway in Searsport to examine how its deepwater port and industrial terminal at Mack Point can grow to support the transport, assembly and manufacturing of offshore wind turbines to turn this economic potential into reality.