Maine Shared Community Health Needs Assessment Data Summaries
---
Below are data summaries for various geographical portions of the State. These summaries include "top issues" as reported by stakeholders in our 2015 survey, and quantitative demographic and health data from 25 sources. The "full list" includes all 166 indicators selected by the SHNAPP Metrics Committee for inclusion in this project. The "short list" includes 73 selected indicators from the full list. The MS Excel tables include both the short and long versions, along with information on the data source and years of data for each indicator.
Data Sources:
The data sources for the data summaries on this page, as well as the data used in the county and state reports can be found in this document: PDF | Excel
In some cases, U.S. data may come from a different data source that county and state data. The full list of national data sources can be found in this document: PDF | Excel
Maine Summary
Full list (PDF)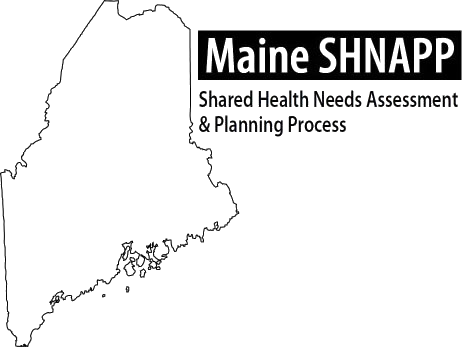 Public Health District Summaries:
Note that for single county districts (Aroostook, Cumberland and York),
the summaries are the same as the county summaries.
County Summaries:
City Summaries:
The populations of most Maine cities and towns, along with limited resources, do not allow for data to be routinely analyzed at this level. A shared CHNA data summary was produced only for the largest urban areas in Maine.