An Introduction to Mineral Collecting in Maine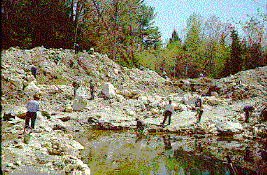 Maine has an excellent reputation among "rockhounds" for the variety and quality of mineral specimens found within its borders. Hundreds of people explore the state each year in search of crystals, semiprecious gems, gold, and other minerals. The novice is practically assured of finding something of interest at Maine's collecting sites, while a large assortment of rare minerals await the advanced collector. Mineral collecting is an inexpensive hobby that can be enjoyed by all age groups, and offers the fringe benefits of outdoor recreation and the opportunity to learn about earth science.
Many of the best minerals in Maine are found in an igneous rock called "pegmatite", which is a very coarse-grained granite. Some pegmatites are enriched in uncommon minerals such as beryl, topaz, and colored tourmaline; they may also contain very rare species or large crystals of various minerals. Pegmatite veins are abundant in parts of Oxford, Androscoggin, and Sagadahoc Counties. Most of them were commercially worked for mica or feldspar, creating piles of waste rock ("dumps") where collectors search for specimens.
Road cuts and natural outcrops of other rock types occasionally provide good mineral specimens. This is particularly true of coarse-grained metamorphic rocks produced by the deep burial and recrystallization of ancient marine sediments. Examples of metamorphic mineral occurrences include the kyanite and staurolite crystals in mica schist at Windham, garnet crystals in schist and calcium-rich rocks at numerous places, and vesuvianite crystals in Sanford.
Ores of lead, zinc, copper, and other metals can be collected from small abandoned mines in several areas of Maine, particularly the coastal region between Penobscot Bay and Eastport. Agates and other materials suitable for cutting and polishing occur on beaches in this part of the state, including Jasper Beach in Machiasport and Loring Cove in Perry. Traces of gold have been detected in widely scattered bedrock ore deposits, but most gold prospectors wash the gravel from stream beds in search of nuggets. The Swift River in Byron is one of the principal sources of placer gold.
COLLECTING EQUIPMENT
A few basic tools are helpful in collecting minerals. The foremost of these is a sturdy hammer for breaking loose and trimming specimens. Gloves and safety glasses are recommended, along with chisels, small shovels, and any additional tools that may come in handy. Your specific needs will depend on whether you are working on a mine dump or solid ledge. Crystals are often delicate, and are most desirable if still attached to some of their host rock, so it is advisable to carefully extract them and wrap them in paper for the trip home.
Above all, private property should be respected, and the owner's permission should be obtained where possible before entering a collecting site. Many localities are closed from time to time when they are being mined for specimens. Mineral collecting is allowed in the White Mountain National Forest in western Maine, provided that your activities are non-commercial, limited to the use of hand tools, and do not greatly disturb the area. Taking samples in Maine State Parks is prohibited without special permission.
SOURCES OF MINERAL INFORMATION
Additional information on finding and identifying mineral specimens can be obtained from libraries, "rock shops," and the references listed below. Many examples of Maine minerals are on exhibit at the Maine Geological Survey and at numerous colleges and museums around the country. The Maine State Museum in Augusta contains an exhibit of superb tourmalines and other crystals and gems from Maine. The Norway Historical Society also has a fine display of local minerals.
Mineralogy of Maine, Volume 1: Descriptive Mineralogy, by V.T. King and E.E. Foord, 1994, 418 p. 88 plates (99 color photos, 537 black-and-white photos), 70 crystal diagrams and figures.
Mineralogy of Maine, Volume 2: Mining History, Gems, and Geology, edited by V.T. King, 2000, 524 p. (45 color photos, 344 black-and-white photos).
A Field Guide to Rocks and Minerals, by F. H. Pough, 1976, Houghton Mifflin, Boston, 317 p.
Maine Mines and Minerals - Vol. 1, Western Maine, by P. Morrill, 1958, privately published, 80 p. (sold in mineral shops)
Maine Mines and Minerals - Vol. 2, Eastern Maine, by P. Morrill and W. P. Hinckley, 1959, privately published, 80 p. (sold in mineral shops)
Maine Mining Adventures by C. J. Stevens, 1994, available from John Wade - Publisher, P.O. Box 303, Phillips, ME 04966, 208 p.
Maine's Treasure Chest - Gems and Minerals of Oxford County, by J. C. Perham, 1987, $16.95 plus $2.50 shipping; order from Perham's of West Paris, West Paris, Maine 04289, 269 p.
The Next Bend in the River (Gold Mining in Maine), by C. J. Stevens, 1989, available from John Wade - Publisher, P.O. Box 303, Phillips, ME 04966, 177 p.
Rocks and Minerals Magazine, v. 62, no. 6, Nov.-Dec. 1987. Entire issue on the minerals and geology of Maine.
Simon and Schuster's Guide to Rocks and Minerals, by M. Prinz, G. Harlow, and J. Peters, 1978, Simon and Schuster, New York, 607 p.
---
Last updated on March 14, 2012