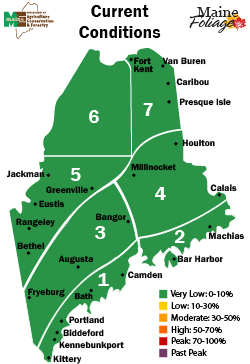 The 2020 fall foliage season is getting closer! Look for us again in early September 2020. For more information throughout the year, contact mainefoliage@maine.gov or for travel information call the Maine Office of Tourism at 1-888-624-6345. Until then, enjoy the seasons and the reasons we love Maine!

Where to Visit
We've put together some suggestions for the best locations in each region of Maine, and when to visit each one for the best fall colors.
Subscribe for Foliage Reports!
Enter your email to receive weekly foliage reports from mid-September to mid-October.