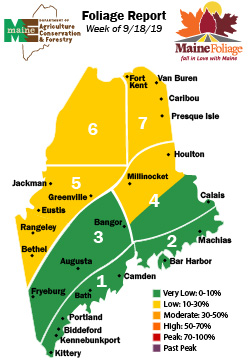 Weekly Report for 9/18/19
Maine's leaf-bearing trees will show off their brilliant colors of yellow, orange and red in the upcoming weeks. The 2019 Fall Foliage Report from the Maine Department of Agriculture, Conservation & Forestry reports spotty color change in the forest. Northern Maine is reporting less than 30-percent color change with very low, less than 10-percent, leaf drop.

Where to Visit
We've put together some suggestions for the best locations in each region of Maine, and when to visit each one for the best fall colors.
Subscribe for Foliage Reports!
Enter your email to receive weekly foliage reports from mid-September to mid-October.