Skype at Maine State Library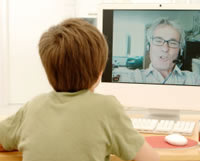 Use Skype to connect to family and friends over the Internet.
Maine State Library visitors have the opportunity to use Skype on public access computers. Skype is a free software application that allows users to make video telephone calls over the Internet to families, friends or associates. Both parties can see, as well as hear, each other.
Using Skype, families can call relatives in the military, job interviews can be held, business meetings can take place, college students spending time abroad can contact their parents and friends can stay in touch with each other no matter where they are in the world.
Both parties must have access to the Internet, a web cam and Skype software for the process to work.
Guidelines
Individuals who wish to use Skype at the Maine State Library must set up their own Skype user ID. Reference Librarians are available to help with this. If you do not have a Skype user ID, please arrange to meet with a librarian 15 minutes before your scheduled call.
The person on the other end of the call must also have a Skype ID and software. They should be ready to receive the call at the scheduled time.
Individuals may sign up for one 30 minute session at a time. If no one is waiting and the classroom is available, the session can be extended.
The State Library can not guarantee that the hardware and software, needed to run Skype, will function smoothly but will make every effort to keep the system up and running.
Available Days and Times
Mon, Wed, Thu, or Fri: 9:15 am - 4 pm
Tue: 9:15 am - 5:15 pm
Sign Up to Use Skype
Required fields *