Home → First Lady Ann LePage
First Lady Ann LePage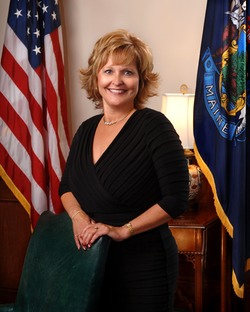 Ann LePage became the First Lady of Maine when her husband Paul LePage was sworn into office as Maine's 74th Governor on January 5, 2011. A Maine native, Ann grew up with a strong work ethic and loyalty to family. She and Governor LePage have been married since 1984, and raised their children in Maine.
Throughout her tenure as First Lady, Ann has been a passionate advocate for military service members, their families and our beloved veterans. Raising awareness for these individuals has been her top priority.
Mrs. LePage was selected as the 2012 Joshua Chamberlain's Chapter Person of the Year by the First Region Association of the United States Army. Her continued dedication, compassion, untiring efforts and support for veterans, service members and their families has clearly defined her character and reputation since becoming First Lady of Maine.
Among numerous veteran support organizations she lends her name to, Ann has participated in the Wreaths Across America Annual Convoy to Arlington National Cemetery in December for several years as Maine's First Lady. She has traveled in tractor trailer trucks loaded with wreaths and made the trip in 2013 and 2014 on the back of a motorcycle to raise awareness of their mission. For more information on Wreaths Across America, please visit http://www.wreathsacrossamerica.org/.
First Lady LePage also works closely with Retired Army Staff Sergeant Travis Mills and the Travis Mills Foundation. Through ongoing fundraising efforts, the foundation has established a retreat to help combat wounded veterans and their families unite with the land, water, nature and each other to revitalize themselves and to encourage each other to keep moving forward. The Foundation purchased and renovated a beautiful property on Long Pond in Mt. Vernon Maine. The retreat is designed to provide state-of-the-art "smart home" technology in a relaxing lodge setting to fill a vital role in the recovery, camaraderie, spousal support, reconnection, and recreational needs of our disabled veterans and their families. For more information on the Travis Mills Foundation, please visit http://www.travismills.org/foundation/
Believing family comes first, Ann LePage has been a strong supporter of her husband's public service throughout their married lives. After spending 14 years at Scott Paper Company and working part time when her children were young, she is grateful for the opportunity she had to be at home with her children. Her proudest moments are shared with her children in their achievements as successful adults.
Proud to be an American and native daughter of the beautiful State of Maine, Ann LePage is honored to fulfill her role as First Lady of Maine.
News from First Lady Ann LePage