About Governor Paul R. LePage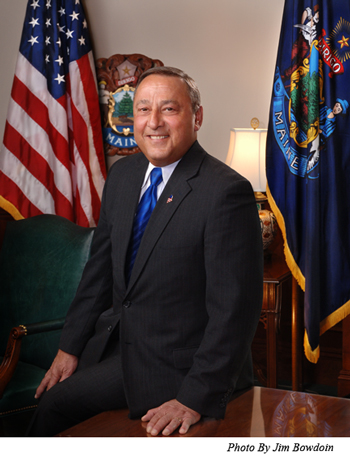 Paul LePage was sworn in as Maine Governor on Wednesday, January 5, 2011.
A business leader who served his community as mayor, Paul LePage decided to run for Governor, believing that his successful business and municipal government strategies could work for all of Maine. The Maine people believed so too – they elected him twice, the second time in 2014 with the most votes than any Maine governor has received in past 30 years.
Governor LePage always puts Maine people first, and never shies from a challenge. He has spent most of his life tackling one challenge after another, beginning with lifting himself out of poverty and homelessness.
Remarkable Life Story
Paul LePage has spent most of his life tackling one challenge after another, the kinds of challenges that defeat most people.
The oldest son of eighteen children in an impoverished, dysfunctional family, Governor LePage left home at the age of eleven to escape domestic violence and lived on the streets of Lewiston for two years, making a meager living shining shoes.
At age thirteen, two families jointly "adopted" Governor LePage. Eddy and Pauline Collins kept him busy washing dishes at Theriault's Cafe. Bruce and Joan Myrick kept him busy hauling boxes. Bruce was a Pepsi-Cola truck driver. Later the Governor worked at the Antoine Rubber Company and at a meat packing company.
While attending Husson College, he supported himself as a short order cook and bartender, while making time to be the editor of the college newspaper.
Getting into Husson presented a challenge in itself. Governor LePage grew up speaking French in Lewiston's Franco-American community. With the help of U.S. Senator Olympia Snowe's first husband, Peter, he was able to take his admissions exam in French to demonstrate his strong comprehension abilities, ultimately earning admittance.
In college, Governor LePage excelled academically and graduated with a B.S. in Business Administration in Finance/Accounting. He then went on to earn an Masters in Business Administration from the University of Maine.
Leader in Maine Business
Governor LePage has had a long career in business management. His industry experience includes manufacturing, wood products, forestry, power, furniture, food and beverage, building supply and construction in Maine and Canada. He became a turn-around specialist, heading a private consultancy through which he provided executive officer, chief operating officer and chief financial officer services and advice to banks, law firms, client companies, insurance companies, bankruptcy courts and trustees.
In 1996, Mickey Marden hired Governor LePage to be the general manager of Marden's. The Governor led the organization from a handful of stores to 15 Maine-based locations that became a favorite of bargain hunters and shopping adventurists alike. He resigned his position at Marden's upon taking office as Governor.
Chief Executive of a Maine Government
Governor LePage and his wife Ann raised their family in Waterville. It is there he began his career in public service, bringing his business management skills to city government, first as a two-term member of the city council and then as Mayor of Waterville in 2003. As a Republican in a solidly Democrat town, the Governor worked across party lines to reduce taxes each year, improve the City's credit rating, increase the rainy day fund and maintain strong support for local education – all without cutting services.
An attention to detail, focus on the big picture and a zeal for efficiency are business attributes that Governor LePage brings to public service.
Gubernatorial Campaign
A business leader who served his community as mayor, Paul LePage decided to run for Governor believing the approach that had succeeded throughout his business career and in Waterville could work for all of Maine.
He entered a seven-way primary contest for the Republican Nomination for Governor with little name recognition. Event by event, Governor LePage won over converts with his message of personal success and fiscally conservative principles. Despite being outspent ten-to-one by his nearest primary opponent, the Governor went on to a resounding victory, earning 38 percent of the vote in the seven-way primary.
During the five-way General Election, Governor LePage continued to talk about his experience in creating jobs and his commitment to putting people before politics in Maine. Governor LePage rode that message to victory on November 2, 2010, and was sworn in as Maine Governor on Wednesday, January 5, 2011.
Governor
During his administration, Governor LePage has prioritized lowering taxes, lowering energy costs, and cutting regulations. One of the areas where he has had the greatest successes has been in solving the budget crisis created by the expansion of Medicaid in 2002 and reforming Maine's welfare system.
When Governor LePage took office, Maine was unable to pay its Medicare bills. The state had racked up a $750 million debt to our hospitals. The Legislature scrambled every year to fill Medicaid budget holes with tens of millions of dollars cannibalized from other agencies or by using one-time budget gimmicks. The Governor found a way to use the state's liquor revenue to pay off the hospitals and fixed the Medicaid system—without raising taxes.
Governor LePage has shrunk the size of state government without cutting essential services. He has rebuilt the state's budget stabilization fund, often called the "rainy day fund." His administration eliminated a $1.7 billion shortfall in Maine's government pension system while protecting retiree's future benefits.
His reforms have saved millions of dollars, which have been used to care for the truly needy—Maine's elderly and people with physical and mental disabilities—by increasing funding for nursing facilities by over 40 percent since 2011, financial support for homecare by over 60 percent, and providing an additional $100 million since 2011 for those with intellectual and developmental disabilities.
The governor lowered the top marginal tax rate from 8.5 percent to 7.15 percent, the largest tax cut in Maine's history. He also exempted Military retiree pension income from the state income tax.
Governor LePage was re-elected with 48 percent of the vote in 2014 in a three-way race, winning with the highest number of total votes of any governor in Maine history.