September 7, 2000 Earthquake in South-Central Maine
The Weston Observatory reports that an earthquake occurred at 6:07:40 a.m. Eastern Daylight Time on Thursday, September 7, 2000, in the Palermo area, Maine. It was felt in Kennebec, Waldo, Lincoln, and Knox Counties.
The following parameters have been calculated for the earthquake (this is a preliminary determination):
Preliminary magnitude
3.2
Preliminary location
44 deg. 26 min. North latitude, 69 deg. 24 min. West longitude
Depth
3 kilometers
This places the epicenter about 15 miles southeast of Waterville, in Palermo, Maine.
---
Further Information: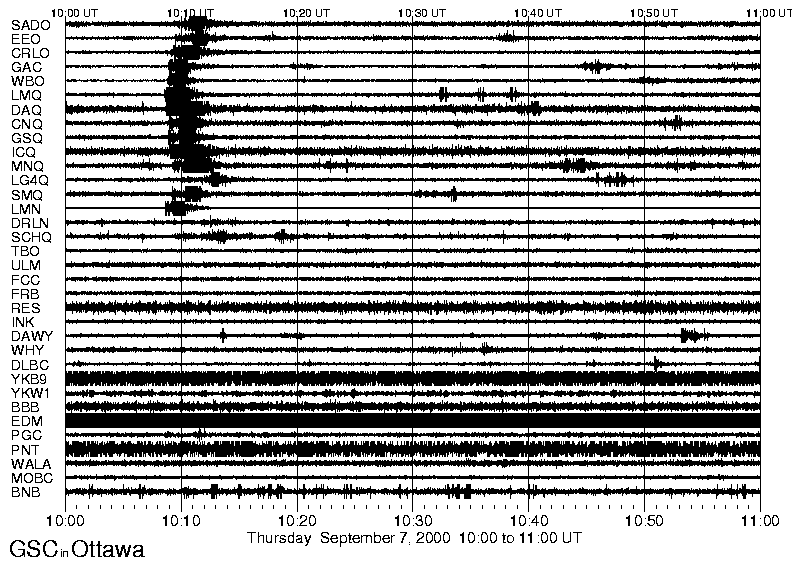 September 7, 2000 hourly seismic plot from the Canadian Seismic Network.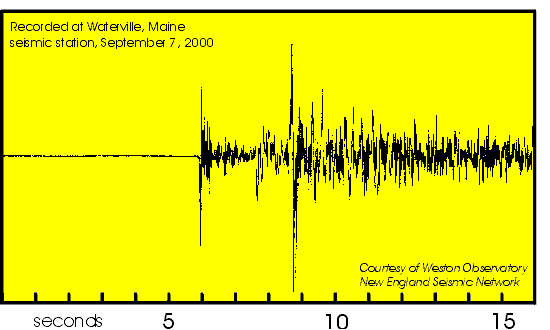 ---
News Reports:
Quake rattles central Maine
Kennebec Journal, Augusta
September 8, 2000
Small earthquake shakes residents in Waterville area
Portland Press Herald
September 8, 2000
---
Last updated on April 27, 2012