April 20, 2002 Earthquake in Eastern New York
The Lamont-Doherty Earthquake Observatory of Columbia University reports that an earthquake occurred at 6:50:48 a.m. Eastern Daylight Time on Saturday, April 20, 2002 in Au Sable Forks, New York. It was felt widely across western New England and southwestern Maine.
The following parameters have been calculated for the earthquake (this is a preliminary determination):
Preliminary magnitude
5.3 ML, Richter
Preliminary location
44 deg. 30.8 min. North latitude, 73 deg. 41.9 min. West longitude
Depth
11 kilometers
This places the epicenter about 18 miles southwest of Plattsburgh, New York.
---
Further Information:
The earthquake caused minor damage to roads and buildings near the epicenter, to maximum intensity VII. Photos and other technical information are posted at the Lamont-Doherty web site. Other information is posted by the National Earthquake Information Center.
The Canadian Seismic Network Hourly plots for 10:00 to 12:00 (UT) show the earthquake was felt strongly at all seismic stations across the region. Smaller aftershocks were recorded at 7:05 and 7:45 a.m.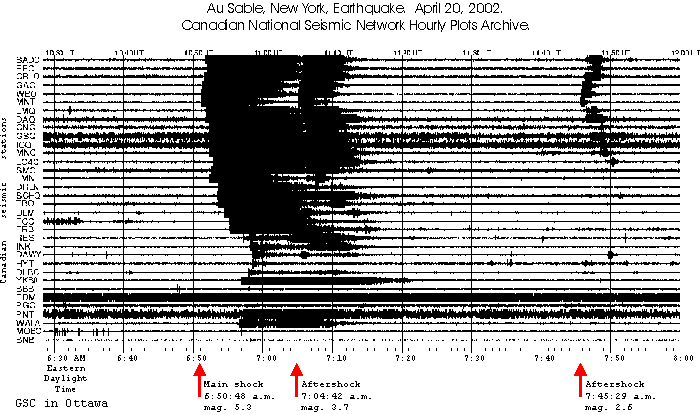 April 20, 2002 hourly seismic plot from the Canadian Seismic Network.
Many people across the northeast region reported effects from the earthquake to the U. S. Geological Survey in Pasadena. The resulting intensity map shows that areas near the epicenter in northeastern New York experienced moderate to strong shaking (Intensity V-VII), and that a very wide area, extending into Maine, felt weak to light shaking (Intensity II-IV).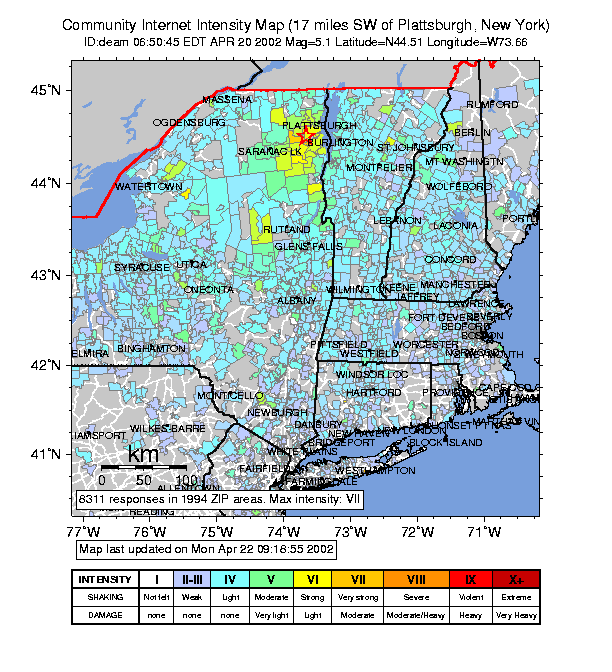 The Maine Geological Survey also received reports from people in many towns who felt the earthquake.
Acton
Auburn
Augusta
Bath
Berwick
Bethel
Bingham
Bowdoinham
Brewer
Bridgton
Brownfield
Brunswick
Burnham
Buxton
Casco
Center Lovell
Cumberland
Cumberland Center
Denmark
Dixfield
Durham
East Boothbay
Eliot
Falmouth
Farmingdale
Farmington
Franklin
Fryeburg
Gardiner
Gorham
Harrison
Hiram
Kennebunk
Kingfield
Lewiston
Limerick
Lisbon
Manchester
Monmouth
Naples
New Gloucester
Norridgewock
North Anson
North Waterboro
North Yarmouth
Norway
Oakland
Orono
Otisfield
Oxford
Peru
Poland
Porter
Portland
Pownal
Randolph
Rangeley
Raymond
Readfield
Rumford
Sabattus
Saco
Sanford
Scarborough
Sebago
South Berwick
South China
South Gardiner
South Portland
Springvale
Standish
Steep Falls
Stratton
Turner
Unity
Warren
Waterboro
Waterford
Wells
West Minot
Westbrook
Wilton
Windham
Wiscasset
Yarmouth
York
---
Last updated on January 26, 2015